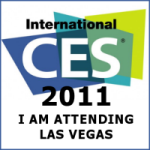 By the time most of you read this, I will be en route on the plane to Las Vegas for the International Consumer Electronics Show (CES) that takes place each year in Sin City. Because many of you enjoy tech gadgets and cutting edge technology, I thought it would be fitting to attend the show and report the tea. In addition, as a reporter and journalist for other websites, I am able to be invited to many of the journalistic events taking place during CES. So it's a win/win situation.
I haven't been to Las Vegas since 2006 so this is indeed a treat for me. And even though I will be on the Vegas strip for business, you know I am going to make sure to have a good time as well.
You can follow my CES activity in Las Vegas on Twitter and Facebook. Because even though the saying is what happens in Vegas stays in Vegas, when you are a blogger, that option is out!
I am also staying with my BloggingChicks partner ThatTechChick so check her out too!
Fun times, ya'll, fun times!