Last night's Academy Awards was a true cavalcade of Hollywood's most glamorous and celebrated stars. The Oscars are like the Super Bowl of award shows, so you have to bring your A game in order to be taken seriously as a true fashionista and mover and shaker when it comes to being fabulous.
It was certainly hard picking the top 5 most fab on the red carpet because there were so many divine looks to choose from, especially since the trend on the red carpet was splashes of color, something that I truly love. But I was able to determine my favorite looks of the night, even though it was not an easy feat.
And since I am by no means a fashion expert or pundit, my good friend and fashion blogger, Kim at A Life of Style, will be bringing her choices for The Good, The Bad, and The Ugly from last night's Oscars right here on The Cubicle Chick, so stay tuned to her guest post which will premiere later today 🙂
So here it goes….my 5 most fab on the 83rd Annual Academy Awards Red Carpet:
5. Natalie Portman, Black Swan
What left can be said about Natalie Portman? This has truly been her year award wise and fashion wise. And even with her burgeoning pregnant belly, she still manages to shine and radiate true Hollywood glamour. This plum Rodarte number with plunging neckline and soft, flowy lines with sideswept waves in her hair looked truly stunning.
4. Mandy Moore, Tangled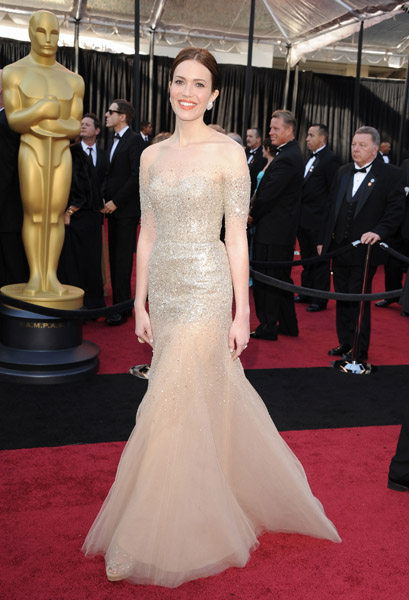 When it comes to glamour, Mandy Moore's Monique Lhuillier's strapless beaded creation is quintessential. Despite the lack of color which ruled on the red carpet, the soft paleness and shimmery beads was a head turner, and I can truly say that Mandy Moore has truly grown up. Loved this dress!
3. Halle Berry, Oscar winner and Presenter
Halle Berry is a stunner, no doubt, but she has been hit or miss lately on the red carpet. Last night, she redeemed herself in in a strapless Marchesa with a fitted bodice and a train of tulle. The beaded jewels and embellishments complete the looks which was absolutely captivating.
2. Sandra Bullock, Presenter, Previous Oscar Winner
Color ruled the red carpet at the Oscar's and it was wonderful to see Sandra Bullock be bright and bold in this red gown that showed off her fabulous figure. Sandra's upswept hair and makeup were so on point, I did a double take when I saw her on TV.
1. Anne Hathaway, Co-host, 83rd Annual Academy Awards
Anne, albeit very pale, ruled the red carpet last night. Her Valentino creation was a dream of bold red fabulosity with amazing draping, details, and accents. This look was very striking on television as well as in photos and I doubt there are few people who can say she didn't truly make a positive impact on the red carpet last night. Loved this look!
Honorable mentions: Mila Kunis, Gwenyth Paltrow, Shaun Robinson, Dame Helen Mirren, Jennifer Lawrence, Hailee Steinfeld
If you missed any red carpet looks, you can click HERE for a full photo re-cap.