The 87th Annual Academy Awards is now in the record books and with it, comes the end of the official award season. I wasn't as enthused about the Oscars this year as I had been previously, but as a pop culture mama and a lover of fashion, I had to watch the awards for the aesthetic offerings. And despite the fact that I felt many of my favorites were overlooked this go 'round, the night belongs to style, and there wasn't a shortage of slayage on this year's Oscar red carpet. So humor me as I give a red carpet rundown of my picks for Best Dressed at the 2015 Academy Awards.
Let's go!
Rosamund Pike
Gone Girl star Rosamund Pike was my pick this year for One to Watch during the awards season. But I must admit, her looks fell a little flat to me as I was disappointed with what she brought to the red carpet. She totally redeemed herself (in my opinion) in this wonderful red lace Givenchy number complete with a strapless scalloped cut and a snatch waist embellishment.  Red shoes, minimal jewelry, and a nude makeup look rounded out this amazing look. I wish the hair would've been styled in perhaps a playful side pony or long waves, but the dress is such a hit, that I can't help but to put her on my list.
Jennifer Hudson
 Jennifer Hudson looked sultry and awe-worthy at the 2015 Oscars in this muted yellow strapless frock by Romona Keveza. The fit is epic, her makeup is on point, and her short hair 'do is making me want to chop off my tresses. Simply gorgeous. Everything about Jennifer was a hit!
David Oyelowo
 I rarely put men on my lists when it comes to red carpet rundowns, but I would be remiss if I didn't put Selma actor David Oyelowo on this year's Best Dressed at the 2015 Oscars. He killed the carpet in a Dolce and Gabbana Marsala colored (which is the 2015 Pantone Color of the Year) tux that was tailored to perfection. I love it when stars step out of the box and he certainly went in different direction and it works.
Reese Witherspoon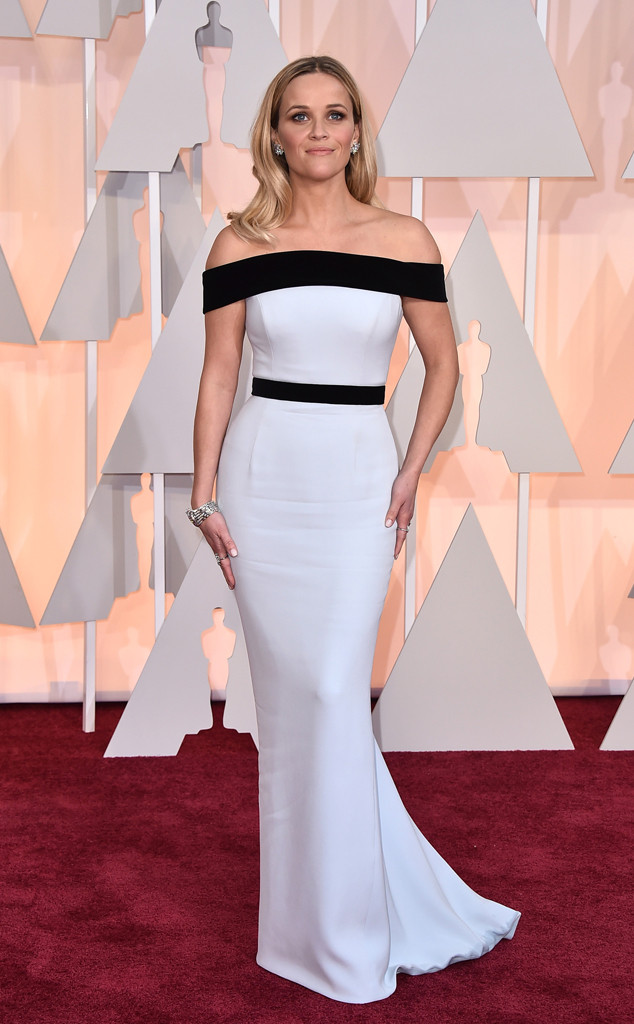 Nominee Reese Witherspoon is a girl who can do no wrong in my opinion. Her 2015 Oscar dress was understated (and also Julia Roberts-eque 2002), but also gave us classic Hollywood glamour and I appreciate it all. Reese wore a Tom Ford black and white gown with mini train and belted waist. It works, Reese and I am here for it.
Kerry Washington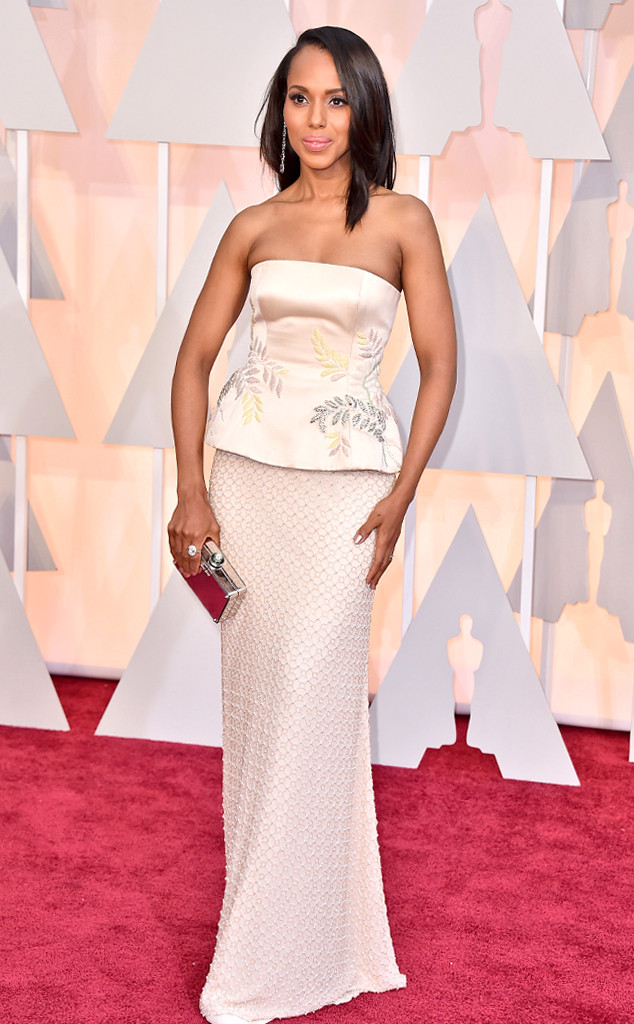 Kerry is so very FAB. She hit the 2015 Oscar runway in one of her favorite designers Miu Miu, and like Reese, served classic style with a Hollywood glam that cannot be denied.  The strapless peplum bodice with embellishment and beaded gown looked beautiful and functional. And her hair—gorge!
Scarlett Johansson
Scarlett Johansson is my girl crush and I love everything about her. Not satisfied with being status quo, she always hits the red carpet in a head-turning look. This year was no exception, as she graced the place in an emerald colored Versace gown with matching beaded necklace that gives attention to the ever-present plunging neckline. Kill em, Scarlett.
Zoe Saldana
Zoe Saldana was on the 2015 Academy Award red carpet looking like a million bucks. Didn't she just give birth to twins two months ago? Clearly, I need to get my life and start hitting the gym religiously because she is serving in a blush Atelier Versace gown with ruched waist.
Naomi Watts
I went back and forth on Naomi Watts' dress, but in the end, I had to give her some props. While it's not as "elegant" for an event as the Academy Awards as some of her contemporaries, she took a fashion risk and I like when that happens. In a spaghetti strapped Armani Prive metallic gown with massive detailing and angled waves, she made my list because she served style and wasn't afraid to do it differently.
Lupita Nyong'o
Until she shows us differently, Oscar winner Lupita Nyong'o perfection. She sauntered on the red carpet in a Calvin Klein Collection gown made of 6,000 pearls. What a beauty!
Jennifer Lopez
J-Lo is another one who just does it all so right, yet it looks so effortless. She stunned on the 2015 Oscar red carpet in a Ellie Saab creation that was Cinderella meets neckline to navel. She kills it every time, and style-wise, she is at the top of her game.
Another notable on the 2015 Academy Award red carpet are Margot Robbie in Saint Laurent.
I am hoping that next year's Oscars will include more films and actors that include people of color. But at least we got a heaping dose of style and fashion. And I enjoyed every bite.
Photo credit: Getty | E! Online