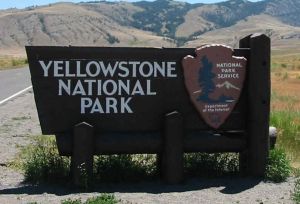 How amazing is it that we have some of the most beautiful parks in the world within our National Parks here in the U.S.? Many of us take these treasures for granted, but we should all be grateful and thankful that we have the opportunity to witness the beauty and nature within the parks. My friends at Energizer feel the same way and wanted to celebrate National Parks Week with a few activities that we all can participate in online and off.
During National Park Week, which lasts until April 24th, you can get entry into any national park for free. In addition, Energizer will donate $1.00 to the National Park Foundation when you text BUNNY to 27722. Energizer will donate up to $50,000 during this texting challenge, and wants to raise $400,000 during the spring. Get your text on so they can reach their goal.
And for those of you who are social media inclined and enjoy Facebook chats, you can flex your social savvy during a Facebook chat with Nurse Betty's Peter Facinelli on April 20th at 1pm EST, 12pm CST. To participate in the chat, visit the Parks tab on the Energizer Bunny Facebook page.  Here is a direct link to RSVP to the event:
http://www.facebook.com/event.php?.eid=167010140019086.
You can also purchase specially marked Energizer products that contains a special code, and when you purchase three of these items, you can go online to www.nowthatspositivenergy.com/blogs and redeem the codes for a $10 reward toward a national park adventure or elect for Energizer to donate the reward directly to the National Park Foundation. Awesome, right?
Lastly, to get involved, you can can RSVP to join a now that's positivenergy™ national park volunteer event by visiting www.nowthatspositivenergy.com/blogs or facebook.com/energizerbunny and clicking on the Parks tab. While there, visitors also have the power to select one of the park recipients through an online vote, which runs from Monday, April 18, through Friday, May 13. Each park hosting an event will receive a grant from Energizer and a donation of responsible power solutions including solar panels, chargers, batteries, solar lights and other lighting products.
Energizer is committed to keeping the national parks as a relevant part of our history and our current culture.
You can win a $10 Target gift card, compliments of Energizer, by commenting below and letting me know which national park you have visited or would like to visit. You also must "Like" me on Facebook.
Happy National Parks Week!