Since I have become a makeup maven during the last year or so, I have found my bathroom inundated with products, creams, makeup, and other items. It's easy to become hooked on purchasing such items, but storing them can be a chore. Add to that the fact that three of us share one bathroom and storage becomes an important factor. I went searching online this weekend for a cosmetic train case that I could store the beauty items that I use the most, and found a wonderful buy on Amazon via Target. A Caboodles silver train case.
For just $27.99, I had to have it. I saw other like train cases for upwards of $100 and more on Sephora—and as much as I love the cosmetic boutique, why pay that much when you don't have to?
My Caboodles train case arrived today and I love it! It's spacious, deep in the center, and I am able to store all of my everyday makeup, brushes, products, and more in one location. And when I travel, I can take it with me.
Feast your eyes on my new train case!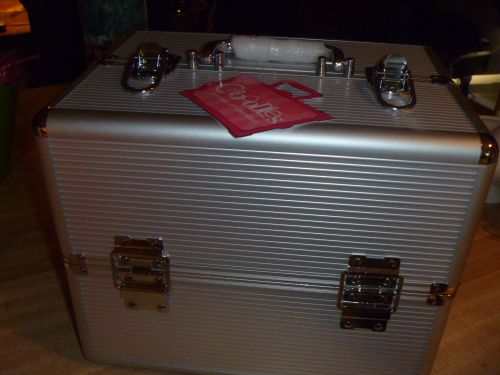 Here "she" is!
Plenty of space!
All of my most used cosmetics fit perfectly
Awesome compartments
Deep middle compartment is perfect for my collection of palettes
Another view….
I am in LOVE with this train case! It also comes with a key to lock it up and a luggage tag. What more could a girl want?
This Caboodles Pro Cosmetic Case is $27.99 on Amazon.com
What do you think of the Caboodles Pro Cosmetic Case?
I, The Cubicle Chick, purchased the items above on my own and was not compensated in any way by the companies mentioned. This blog post does contain affiliate links.