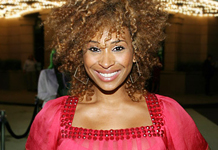 Let me start this post off by saying I love some Tanika Ray. She first caught my attention as the host 'Head to Toe' in 2003, and since then, has been a breath of fresh air on television. She's always full of energy, vibrant, and always looks fabulous. I have also fallen in love with her hair and its fullness of curly q's, never perfect but always looking like perfection. Tanika has definitely been one of my BFF's in my head for sometime now, and I was elated when I found out I would get the opportunity to speak with her about her new show HGTV'd.
'HGTV'd' is HGTV's newest reality program in which an HGTV star surprises a viewer with "jaw-dropping makeovers and over-the-top transformations" that are indeed fun and fabulous. The homeowners leave their digs for several days and come back to a surprise of a lifetime—and no expense is spared.
Tanika said she couldn't discuss the budget for the show, but said that Scripps (the company that owns HGTV) put a lot of money into the program to make is a "dream come true" type of experience for all of the participants.
When I asked Tanika about why she wanted to participate in a show such as this, she said it was a no-brainer. "I've decorated my own space, I didn't hire someone else to do it, and I enjoy being creative in my own space. It was only natural for me to want to get involved in this type of show and with this network. I auditioned, but I told them, 'you already have your girl–I'm here'."
According to the press releases and material I've read about HGTV'd, the transformations will be epic. I cannot wait to see how HGTV stars take a space and make it into a well-designed gem.
And I would be remiss if I didn't ask Tanika a question about her hair, which many of requested I query her for her hair secrets.
"I don't know how I've become a hair icon. There's no secret (to my hair), I was born with strange hair. My mom never knew what to do with it. It's always had a mind of its own. It's always been wild and this way and that way so I just kinda let it do what it does."
Lucky her, right?
Tanika is very friendly and active on her social networks, and you can follow her on Twitter here. After our chat, she sent me a few shout outs online which totally made my day. Gotta love a woman who is down-to-earth!
'HGTV'd' premieres on HGTV on Monday, June 6th at 9pm/8 CST. Will you be watching?
Below is a promo of the new series: