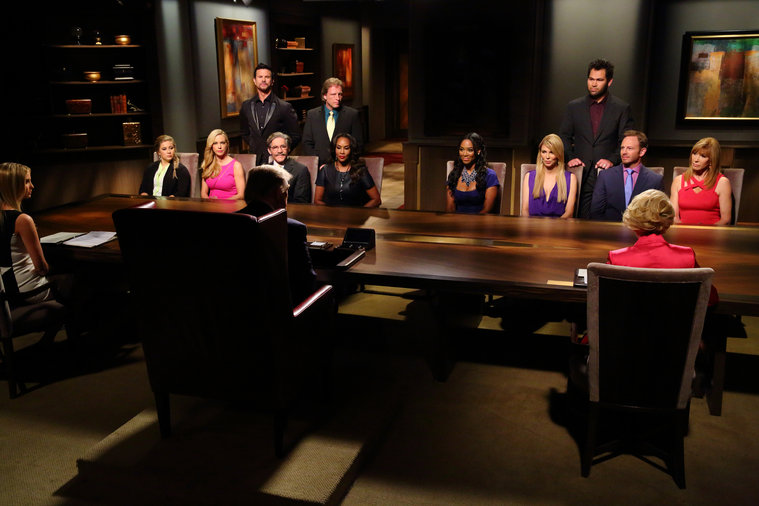 Each week, I will take on the challenge of recapping the 14th season of NBC's Celebrity Apprentice for your pure amusement. Read at your own risk.
Another week, another episode of one of my current favorite guilty pleasures, The Celebrity Apprentice.
On this episode (It's Like a Booze Cruise, with Knowledge), fresh off of two wins in a row, Infinity is going for win number three. The Donald charged the teams with coming up with a fun experience for The Circle Line New York City Boat Tour. Real Housewife Brandi Glanville stepped up to be the Project Manager for Infinity and boat captain Sig volunteered to be the Project Manager for Vortex.
Brandi and her team went to the planning stages and began creating a theme around Manhattan Mardi Gras, which was proposed by her nemesis, fellow Real Housewife Kenya Moore. After giving it some thought, Brandi decided that she would be on the losing side if she went with a Mardi Gras theme—being that it is NYC, she felt they needed to center the theme around the Big Apple.
I think she saved herself with that decision.
On Vortex, Sig and Geraldo made a decision to throw a huge NYC boat fete complete with tasty treats and Hooters girls. Oh. Kate wasn't too keen on this decision, but continued to work with the team to accomplish their goal. I am liking her more and more each episode.
Infinity seemed to be pulling together their concept, and Kenya thought it would put them over the edge if she performed her song "Gone with the Wind Fabulous" for the tourists on the boat. Brandi, thinking Kenya would shoot herself in the foot, agreed to allow her to perform.
SMH.
It's now the big day, and both teams have boats full of customers. Everyone looks happy and things are going well. Kenya decides to do her performance complete with on the ground antics which caused a few of the tourists to o_O.
Over on Vortex, Geraldo is the tour guide, describing the buildings they are passing. He goes on to discuss Freedom Tower and says some unfortunate things about "those terrorists". He is a FOX News personality, you know.
It's boardroom time, and we get to find out who the victor is. Although Infinity's theme was all over the place and Kenya dropped it like it's hot in front of children and old people, Brandi got the win for her team—win number three (in a row).
Vortex got high marks for Vivica's hostess duties and their theme, but lost because of the Hooters girls and Geraldo's polarizing comments.
Donald will never get rid of Geraldo, so Sig was out.
On to the second hour, which was to create an on-site "model" experience for the Trump National Doral Resort in Miami.
Because the teams are now so uneven, Kenya was moved from Infinity to Vortex. (Team Infinity is now Leeza, Brandi, Ian, Johnny Damon & Team Vortex is now Geraldo, Kate, Vivica, and Kenya).
Heads will roll…
For this challenge, Ian volunteered to be the Infinity Project Manager and Kate became the PM for Vortex.
From the start, Kenya wanted to run the show. Kate, however, kept her cool and relegated both Kenya and Vivica to shop for supplies. Kate and Geraldo stayed at the location to plot and plan the staging.
Over on Infinity, Ian ran the show and began trying to share his "vision" with the others. Expressing himself is not one of his strong suits.
During Kenya and Vivica's shopping trip, Kenya continued to whine about not being at the location with Kate since she knows "luxury". And while everyone knew the shopping would take a large portion of the day to complete, Kenya began to get upset with Vivica because she wanted to stop at one last place. Knowing that Kate pays attention to detail, she didn't want to take any chances.
Kenya commenced to text Kate several times to tell on Vivica. You know how Kenya does.
At the end, the show must go on and everyone does their best to complete their perspective challenges before the deadline.
Kate utilized a series of different "rooms" to showcase the Doral. She incorporated a kid's room into the mix, which I think may bode well for Vortex.
Ian and Infinity had flowers and a masseuse and drinks for all.
Stop. Boardroom time.
Donald goes straight to Kenya and asks her if she liked her new team. Of course, Kenya says yes, and doesn't mention anything negative.
Kate, however, keeps it real and mentions the tension between Kenya and Vivica. Then it got ugly with Kenya and Vivica going at it.
Of course, it's all smiles over on Infinity, as Brandi is happy to be Kenya-free. Donald asks them how Ian was as a Project Manager and for the most part, they were kind.
Who won?
Team Infinity; again.
When asked who should be fired, Kate promptly says Vivica. But after some pushing, she admits that Kenya has been the negative one in the group and should be let go.
Vivica and Kenya get into a sparring match with Kenya stating that she hasn't had any plastic surgery, Low blow, since it's a known fact that Vivica has had her share of work done. Viviva volleyed and pointed out Kenya's fake butt and eyelashes, and when it was all over, Kate got the boot.
I truly believe Kenya should've been let go, but Donald is the boss. And next week, according to the previews, Vivica and Kenya will get it in in the boardroom.
Must see TV.