My 17 year old son is an avid lover of smartphones and technology. His almost three year old Samsung Behold 2 was one of the first Android phones on the market, and after losing it once and going through several software updates, it was time for a new phone. The phone he wanted was the extremely reliable and fast HTC Sensation 4g, built for Android and made for T-mobile.
While at BlogHer, I had the opportunity to speak with Dan who works for Corporate Communications for T-mobile. I brought up my son and his need for a new phone and he offered to send a new phone to my son since we had been longtime customers of T-mobile. My son had been eying the HTC Sensation 4g, so it was the phone that Dan said my son could have.
Yesterday, his HTC Sensation arrived, just in time for back to school. My son nearly tackled me to get his new phone, and went about the task of linking his Google account to his new phone.
After several hours of playing with it and getting it just the way he wanted it, my son said it was one of the best things he's ever gotten. He especially loves the 3D features of the screen, the unlimited apps the Android Market has, the option of the front or back camera, the speed of the phone and the ability to do multiple things with the Sensation such as talk and surf the web while using apps. And he says the phone is really fast, almost too fast when he is using apps. The thinness of the phone really appeals to him too, especially since he was coming from a Behold which is almost 3x's as thick as the Sensation.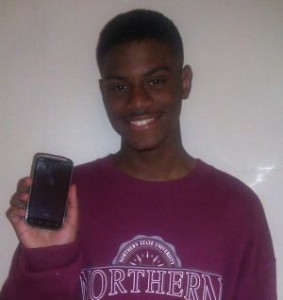 So not only does my son start his senior year in high school, but he gets to start it with a new smartphone that he loves.
It seems as though my family is turning into an Android household—and I love it!
I, The Cubicle Chick, was given the HTC Sensation 4g by T-mobile, not for promotional consideration, but because I have been a longtime customer. I was not paid nor compensated for this blog post, and the opinions listed in this post are mine (and my son's).