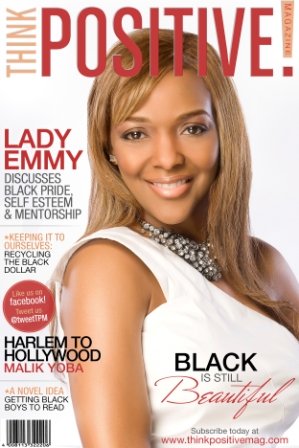 As a Black professional for many years, I have felt a void of positive and enlightening publications geared towards this important group. Magazines like Black Enterprise have been mainstays in this segment population but focuses more on business than on lifestyle and personal goals.Think Positive! Magazine is changing that by offering positive perspectives and newsworthy information for young, urban professionals.
Founded by Miracle Media, Inc. headquartered in Chicago, Illinois, Think Positive! Magazine is a quarterly publication that will inspire, enlighten, and help share news and information in a positive light. It's not your average publication, in that its focus is on positivity in a negative world.
According to Telie Woods, co-founder and marketing manager:
"There are many magazines that contend to reach our demographic, but this publication is truly more than a magazine. The name says it all. Think Positive is a call to action. It is a lifestyle. Daily our readers seek to improve their health, finances, education, career, family, spirit and community. Every interview, column, feature and photograph within this magazine speaks to those desires and helps society live a more productive way of life. For far too long the urban community has been stifled economically, broken spiritually and force-fed negative images in the media."
Think Positive! Magazine is currently available via annual subscription on it's official website, ThinkPositiveMag.com. A year subscription is $12.00. Digital subscriptions to the publication will be offered soon.
In a world full of negativity and bad news, it's good to know there is publication focused on the opposite.
Popular African American Political Pundit, Jeff Johnson, agrees. "I'm excited about the birth of such a relevant and provocative source of information that targets a demographic that is often ignored. Think Positive speaks prophetically to the desire of our communities to elevate our thinking; and then provides the content to do so."
For more information about Think Positive! Magazine, click HERE! And tell them I sent'cha!