During the last year or so, I have become committed to cooking more homemade meals for the family. When I was a full-time Cubicle Chick and working a 9 to 5 in an office, by the time I got home, I was drained. Now that my Cubicle is in my home and I make my own schedule, it's easier for me to prepare meals that my kids enjoy. I am really beginning to feel my way around the kitchen!
Earlier this week, I wanted to cook something that I had never tackled before—pizza. Pizza is something that everyone in my household loves, and instead of shelling out money for a delivery pizza, I thought it would be pretty fabulous for me to make my own.
I ended up purchasing a Boboli Pizza Crust at my local grocer and went about the task of creating a pizza with toppings my family would love. I ended up making two pizza pies—a pepperoni with veggie and a cheese and bacon delight.
Here is what you will need to make these pizzas:
Boboli pizza crust
Tomato sauce
Olive Oil
Non-Stick Cooking Spray
Shredded cheese (mozzarella and Italian blend)
Veggies (I chose onions, mushrooms)
Hormel pepperoni
Bacon (cut off as much of the fat that you can when prepping)
Rice Wine Vinegar
Worcester sauce
Italian seasoning
Here are directions for preparing the pizzas:
Brown your veggies. I used onions and mushrooms. Use a teaspoon of EVOO, a dash Rice Wine Vinegar, & a teaspoon of Worcester Sauce. Sprinkle a little Italian Seasoning on top.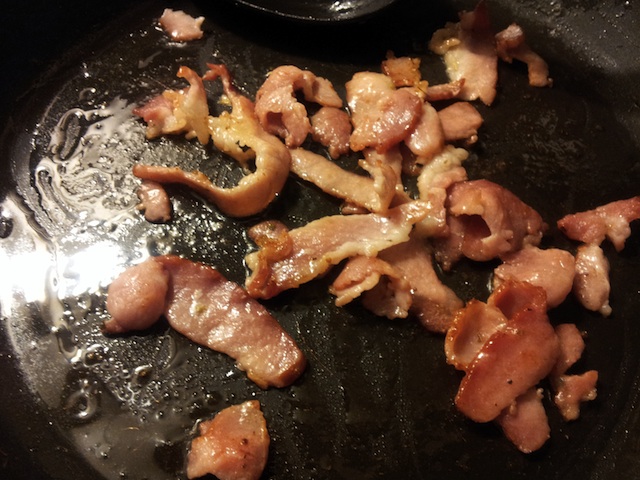 If using meat (in this case, bacon), fry until 1/3rd done. (It will finish cooking in the oven)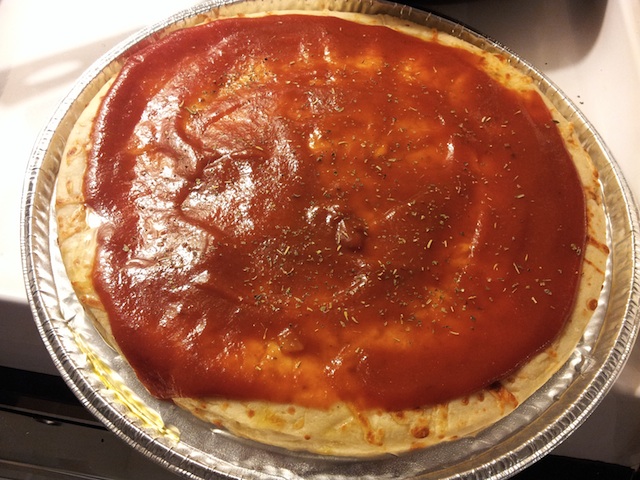 Get your Boboli Pizza Crust,.Apply a ladle full of tomato or pizza sauce. Use the ladle to evenly distribute on the crust and sprinkle a little Italian Seasoning on top
Add cheese (I used 1/2 a bag of shredded mozzarella and 1/4th cup Italian Cheeses)
Apply your previously cooked veggies and add toppings to the sauced crust. I used Hormel pepperoni slices.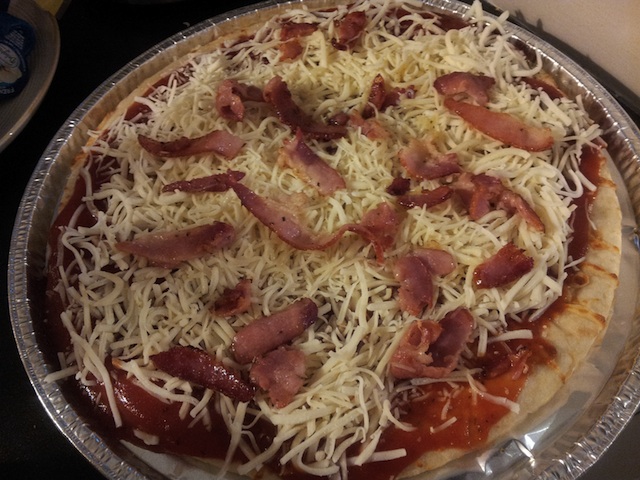 On the 2nd pizza, I added my previously fried bacon
Bake in the oven on 400 degrees for 20 minutes. Times may vary depending on your oven type.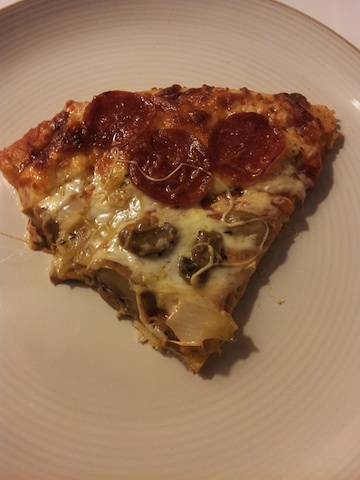 Slice and serve!
What I learned: Not to overdo it with the tomato sauce. I used a little too much on my first pizza, so when I made the second one, I was better prepared. Too much sauce can make for a soggy crust. Also, cooking the veggies first before putting them on the pizza and baking the pizza makes for a more even taste. The rice wine vinegar along with the Worcester sauce gave the veggies real flavor that made the pizza taste incredible.
I hope this recipe is easy to use and you are able to try it out!
I, The Cubicle Chick, purchased all the items shown in this recipe with my own money. This is not a sponsored or paid post. And the money I spent was worth every cent. The kids really enjoyed it.