As many of you already know, I was given the honor and the privilege to attend Oprah's Lifeclass The Tour, when it began here in St. Louis last month. During that experience, we were not only the same room as Queen O, but we were able to get a few glimpses behind-the-scenes at how the Oprah conglomeration is run. It was quite fascinating to see Oprah at work during the breaks talking to her production team. She certainly didn't get as successful as she was on her own—-she has a team of dedicated staffers who go above and beyond duty to create amazing experiences for her fans and viewers.
Here are a few things I learned about Oprah behind-the-scenes:
Oprah wears her nice shoes "or red bottoms as she referred to them as" when they can be seen on camera. When she is walking in the audience, or sitting behind a podium or table, she is in flats. Her director kept putting on and taking off her shoes during the entire 2 hour show.
Oprah wears a size 11 shoe ya'll. Yes, she told us that during the break.
A selected team of A list bloggers were seated in the very front middle section of the show and so they could Tweet, Facebook, etc. I saw this group of people and didn't know who they were until I read this article, which I was mentioned. Check it out!
The music that played while we were taping was the bomb. We listened to everything from LMFAO to Whitney Houston. Oprah's staff knew just the kind of music we needed in order to get pumped.
Oprah has a potty mouth (some of you may already known this from her show Season 25, Oprah Behind the Scenes)
Oprah and her staff have integrated social media so much into the whole Lifeclass experience, even a social media enthusiast like me was impressed.
Oprah isn't just a Lifeclass teacher. She is a Lifeclass student. And she was taking notes!
Iyanla and Oprah have a kindred spirit type of sisterhood that was very touching to watch. They are girlfriends who are not afraid to be honest with one another. On live TV!
Oprah runs a tight ship. She had to correct her staff a few times during the breaks. Not in a mean way, but in a, "you know we are in front of a live audience, don't make me check you" kind of way.
Queen O is smaller in person. And I need to know what type of Spanx she wears to keep those Lady Lumps on point. Simply gorgeous!
I shared with you a few pictures from the Lifeclass taping with Iyanla Vanzant a few weeks ago, but I added a few more as well as a video of us singing Whitney before the show started (sorry so short, I began taping near the end)
The Lifeclass stage was epic
The Oprah Winfrey Show executive producer & HARPO President Sheri Salata
I told you Oprah's Spanx are the truth!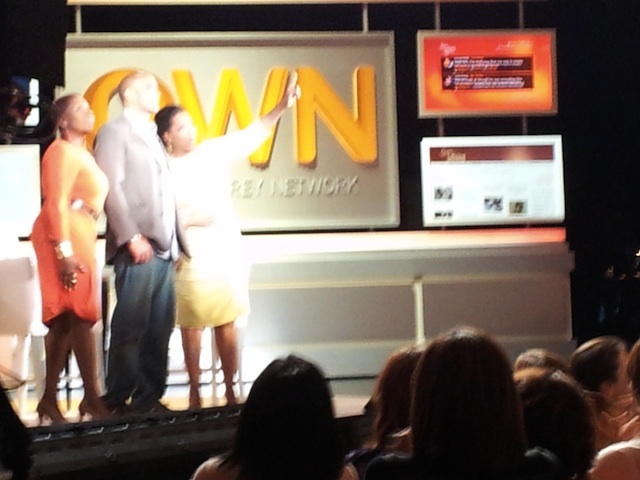 Iyanla and Oprah "Standing With Steve"
Have you been watching Oprah's Lifeclass? What are your thoughts?