On May 1, 1990, Brewster Place, starring Oprah Winfrey debuted as a thirty-minute TV show on ABC. It was hailed as a continuation of The Women of Brewster Place miniseries story based on the Gloria Naylor book that premiered the year before. Most people remember the acclaimed and high-rated miniseries but fail to recognize the TV series that was a spinoff.
Brewster Place was shot at Orpah's Harpo Studio in Chicago and boasted only one member from the original cast–Olivia Cole who played the gossipy and troublesome Miss Sophie. Other characters from the original movie were recast: Brenda Pressley as Etta Mae (who was played by Jackee'), Rachael Crawford as Melanie "Kiswana" (originally played by Robin Givens), and Kelly Neal as Abshu (initially played by Leon).
While the series garnered mostly positive reviews, Brewster Place was canceled after one month and was one of the first public defeats that Oprah Winfrey suffered during her accession as the queen of TV.
As a YouTube fanatic and lover of all things retro and throwback, I came across the series recently and found it delightful and at times, heartwarming. Here are a few more tidbits about Oprah's short-lived Brewster Place TV series:
Mattie the Entrepreneur
During the first episode of the series, Mattie and her best friend Etta Mae embark on buying the only restaurant on Brewster Place from the original owner who retired to Florida. The La Scala restaurant becomes the neighborhood hub for everything that happens in the street and the homecooked food becomes the great connector for residents and visitors alike.
Wrapped in a Bow
Each episode (approximately 24 minutes running time) deals with some sort of problem or issue and is usually solved by the end. The cast includes Mattie's cousins Ralph and his three kids (including a very young Jason Weaver as Matthew Thomas), as other characters are introduced contributing to the story, then moving on somewhere else from Brewster Place. You get the feeling that while BP is a good place to visit, it's not a place visitors folk stay long.
Accapella Intro
The Women of Brewster Place miniseries featured outstanding vocals by the vocally blessed Vesta Williams and is known for its rousing melody and boisterous performance. For the Brewster Place TV series, we get a more upbeat and festive theme song performed by the acapella group Take 6, who actually sing it on the corner of Brewster Place as the credits are shared. I absolutely love this version.
Big Axe
Brewster Place came out swinging on May 1, 1990 and garnered a 15.1 share of the Neilsen audience. By the 3rd episode, ratings dipped drastically and it was canceled after only a month after the sixth episode aired. 11 episodes were filmed and all of them can be seen on YouTube.
Easily Forgettable?
As an Oprah fan and lover of her work, since I was a wee lass, I find it odd that you don't hear much from Oprah about the series. It isn't mentioned in much of her official bios and professional body of work, so perhaps she wants to forget that the Brewster Place TV series never happened.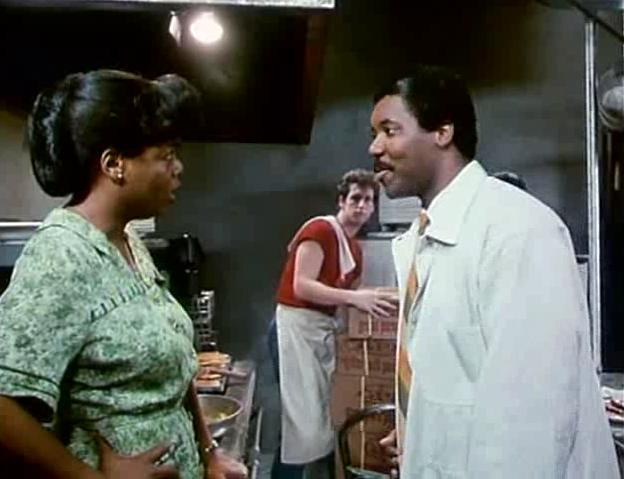 If you'd like to take a stroll back in time to an even father stroll back in time, you can view the full Brewster Place TV series run on YouTube HERE.
Do you remember this show?