This past weekend, I spent a glorious and highly self fulfilling time in Key Biscayne, Miami for the Mom 2.0 Summit. I was a little late registering for the conference as it wasn't even on my radar, but I am so glad that I saw the light and attended. I tweeted on Sunday that the conference was hands down the best conference I had been to; and let me tell you, I have been to ALOT of conferences. I also run my own as well. So that says oodles about how I felt about the conference and offerings.
Let me break it down like this:
Thursday
I arrived at around 9 pm. I was bummed about this because there was a fabulous White Party that was taking place that night and I was going to miss most of it, because I wanted a non-stop flight. But it ended up working in my favor because—get this—I checked in late and was upgraded to a luxurious suite at the Ritz Carlton Key Biscayne. Checking in late had it's privileges.  That night as the White Party revelers strolled into the hotel bar and lobby, I met two girls who would change my life. Jen and Ann. We hit it off and it was on and popping afterwards!
Swag that awaited me in my room
Friday
Friday, the conference opened with a fabulous breakfast patio side. I was too busy visiting the sponsor booths to eat breakfast, and I paid for it later, for my tummy growled during all of the morning sessions. Then the conference got underway with a great opening keynote with Brene Brown and Jess Weiner. It was uplifting, powerful, and well-needed in my life right now. These women got us. They got what we were going through. And they championed us to be the best people we can be. Not for others, but for ourselves.
The Setting your course in what's next: How do you even do that breakout session with Jessica, Gabrielle, Nicole, and Karen was really interesting and propelled me to go harder with my blog. Yes, I've come a long way, but I still have miles upon miles to go. And by using my voice and putting the tools these ladies gave us during this session, I feel like I can run the world (GIRLS!–Beyonce style).
The lunch sponsored by ALDI was amazing. Can you say Buffalo Chicken Macaroni and Cheese? Huh? I can't hear you!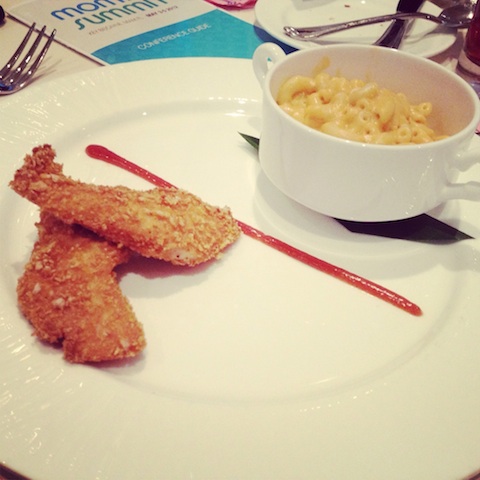 The afternoon closed with 7 minute sessions with an array of speakers including Justice Fergie (who I finally got to meet after years of networking socially online), Helen Jane,  and Kathryn Tucker. Oh, and I also learned that I am a Sh*tty Mom. Yeah. Just marinate on that for a second.
I am so THIS!
Friday evening was spent with the Glam Media team for a special dinner for us publishers at Cantina on the Beach. Swaglicious! Then it was time to hang out with my Chicas!
Jen, me, and Ann (my crew!)
Saturday
Just when I thought it couldn't get better, it did. I made it to breakfast on time and actually ate with my new crew, Jen and Ann. We stayed up late the previous night talking about our lives, our loves, our dreams—it was amazing to be bonded with these girls upon first glance, but it happened. We are spiritual sisters now.
The Keynote Entrepreneurs Panel was awesome. It was wonderful to hear about Liz Lange creating her own niche in a world before maternity and pregnancy were "trendesetting". Lee Rhodes, a 3 time cancer survivor brought me to near tears hearing her story of creating Glassy Baby.
The breakout session I attended called What's Important to Us?: Hot topics of 2012 was right on time for me as well. As a blogger, sometimes I stray away from polarizing topics in fear that I will alienate my readers. But I learned that I can't be everything to everyone. Sometimes, I will have to pick sides on an issue. And that is okay.
I fell in love with Kristen Howerton and her story of raising a multicultural family. She was so open and so honest and, gee. Amazing!
Saturday's lunch sponsored by Sargento was super good. The pasta salad with their new 41 calorie per slice cheese was insane! I had like 3 helpings. Don't tell my Zumba pals, they won't like it.
The closing keynote with Jenny Lawson (TheBloggess) was interesting. I wanted to hear more from her, but the other panelists kinda took over. If there was a weak spot on the program, I would say that this session was it. I think it could've been moderated a little better so we could hear more from Jenny.
Afterwards, we all crammed in a bus in our fabulous glory and headed to the Versace Mansion on Ocean Drive in South Beach. And the rest, I will say, will stay in Miami (except for these pictures!)
Me and Ann on the bus on our way to Versace's crib!
We came, we saw, we entered…
Ann, me, and Jen  in an Aladdin theme roomed in the mansion
Me and Time Dog founder Matt Cherry. He is the man!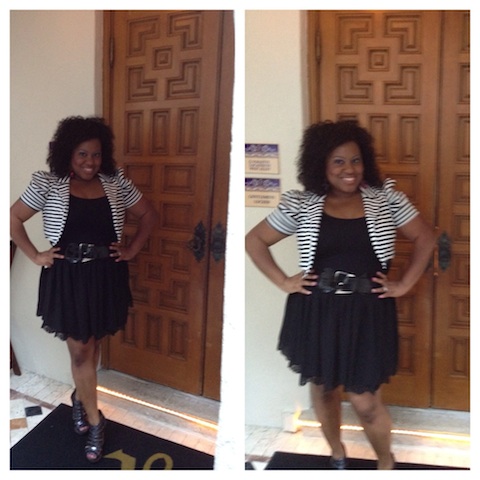 I planned on wearing another dress but it didn't look right. So this was Plan B.
Sunday
I slept in, beach bummed, stuffed my face, and had drinks with Nancy before departing for the airport. The life!
Chill mode
The most amazing view EVER!
Beach!
Mom 2.0 Summit was fabulous. I loved, loved, loved it! I will be going next year for sure!
Kudos to the Mom 2.0 staff and founders Laura Mayes and Carrie Pacini. Ya'll did GOOD!
Here's a video I made on my last day (Sunday) which includes a tour of my suite at the Ritz Carlton Key Biscayne.