Last Friday, I got the opportunity to attend the VIP Grand Opening Event at The Limited's plus size "boutique" eloquii at the Saint Louis Galleria. The Limited has been known for years as a fabulous place to purchase items for both work and play without breaking the bank, so it was only natural that they also offered clothing options for us curvier chicks. eloquii gives glamorous and affordable options for sizes 14 and up and offers everything from career wear, casual wear, and items for a night out on the town.
When I arrived, I was pleasantly surprised at what eloquii had to offer. I perused their website previous to the opening to see just what to expect, but it's another experience when you get to see if for yourself firsthand. All of the latest trends and fashion were available including color blocking dresses and tops, pencil skirts, and sequins. Who says plus size fashion has to be boring?
I personally have a hard time finding clothing that fits me just right. I am top heavy, so that oftentimes means me having to search for items that are carried in larger sizes. I found that eloquii had several items for me to choose from, and the only negative thing that I can say about the store was that, because it's a store within a store, didn't have as many items as I would have liked. As I know this is a new store and boutique idea, I am sure that over the next few months, The Limited will be adjusting the size and the amount of items available at eloquii at the Saint Louis Galleria location.
I also got a chance to speak to eloquii designer, Jodi Arnold, who told me that her goal was to design fashionable clothing with the latest trends in mind for the more voluptuous figure. Women of all sizes and shapes want to look good and feel good about their clothing options, and from what I can see, Jodi and eloquii has hit the mark.
Below are a few pictures I took of the items I loved the most during the event: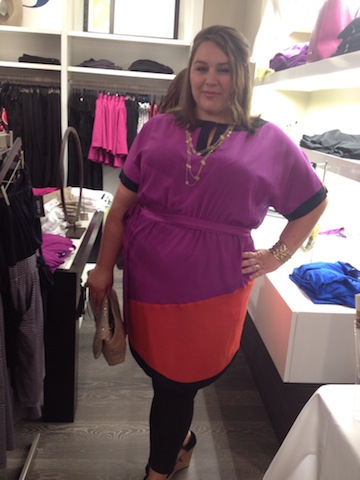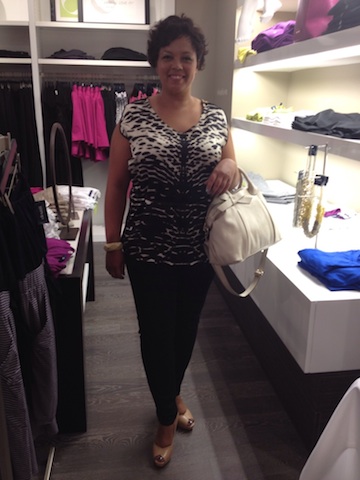 And because eloquii is under The Limited's umbrella (and we are now in Day 4 of my '7 Days of Giveaways'), I am giving away one (1) $50 The Limited gift card that can be used either at eloquii or The Limited. Your choice!
To enter, you must:
This giveaway is open to U.S. residents only, void where prohibited. This giveaway will conclude on Thursday, July 26th, at 6pm CST, and a winner will be announced afterwards on my Facebook page. A random winner will be selected and will have 48 hours to claim their prize, or alternate winner will be selected.
I do ask that if you have won a giveaway on my site within the last 30 days that you do not enter, so it will give others the opportunity to win.
I am looking forward to visiting eloquii again and seeing what items they will have available for the Fall season.
Disclaimer: I, The Cubicle Chick, was given gift cards from The Limited and eloquii in exchange for me attending the grand opening event at the Saint Louis Galleria. This is not a paid, nor sponsored post. All opinions in this post, as always, are mine.
Thanks, Jana, for the invite!