It's no secret that fall is my favorite season. I love the mild temperatures, the changing of the leaves, the rustic hues, and the fashion. Boots, jeans, jackets, scarves- there are so many levels to style during autumn.
I am sharing a bit of my fall style vibes for over 40 fashion. There's a little bit of everything in the mix: what to wear to work, casual outings, date nights, and more. Hopefully, you will find something in my capsule that you will like, or at the very least, you get some inspiration.
Without further adieu…
Just for the dress of it
This Swing Demi Dress from Old Navy is simple yet packs style. It's a functional piece that can also be layered with a scarf, blue jean jacket, or bomber for cooler temperatures. I paired it with a pair of brown UGG platform sandals for a mild 75-degree September day, but I cannot wait to wear it again, this time with a pair of heeled boots and a scarf. I will share that look as well as soon as the weather permits.
LBD
H&M had me the moment I saw this black Creped Wrapped-front dress. A wrap dress is a favorite of mine for me because, as a short-waisted woman, it gives me some definition and curve in my mid-section. This is a cute fall-style look that can be layered with a sweater and worn with tights, boots, or flats. It was 78 78-degree autumn day when I wore this to work, so I opted for wedges to complete the look.
Black + Plaid
When apple and pumpkin picking, you must dress for the occasion. I coupled a black long-sleeved jersey top from H&M and a pair of black pants from Shein, with brown riding boots and a plaid button-down, also from Shein. You can also slightly see my Painter's Tape Blue small Telfar bag, which also gave an added pop of color.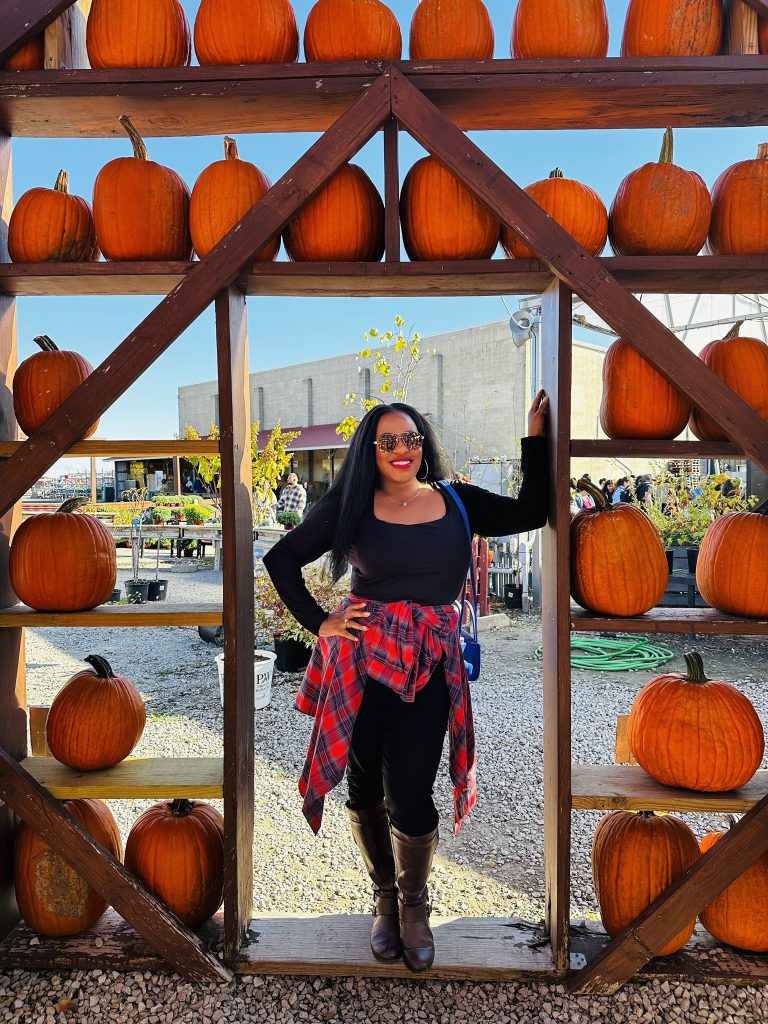 I love tying a shirt around my waist for fall outings because as the temperature goes down, I can add it on as a layer and feel comfy and warm. It's a great option when it's not quite jacket or coat weather.
Soft and leather
Well, my H&M pants are not real leather, but these Coated Crease-front Leggings (made of polyester and spandex for giveable stretch) make me feel spicy. I like these pants because you can dress them up or down, and in this look, I was once again heading to work. Paired with a smocked "baby doll" top from Old Navy and some booties, you've got a functional look that is fun and flattering.
Day or date
Over 40 fashion doesn't have to be boring. I chose a chestnut brown maxi sleeveless dress to go out date night style, and when the sun went down, I added a blue jean jacket and scarf to warm things up. The dress was a thrift find and one of my favorite autumn staples, especially for the "warmer" autumn days we've been having lately.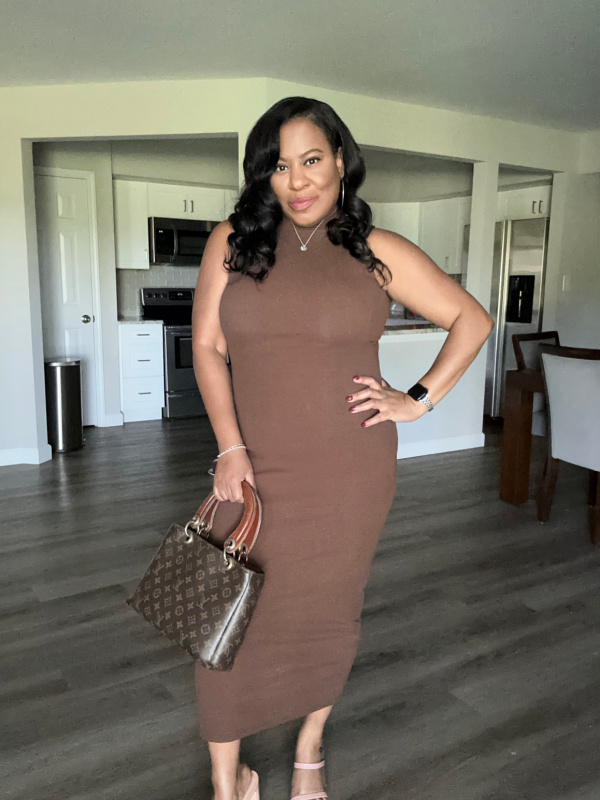 Fall is a great time for over 40 fashion. I hope you found some inspiration with my ensembles. Happy fall, y'all!