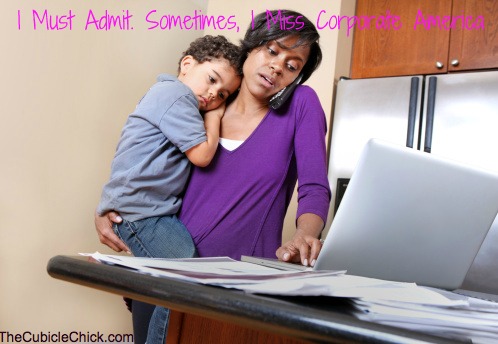 Some of you know my story. Some of you don't. For those of you who may not be familiar, I worked in a cubicle for many years in a corporate structure in both Human Resources and Property Management. After losing my job in 2009 two weeks before Christmas, I had to try to find a job within a slow job market. Eventually, I decided to throw myself full force into my blog, which I started a month or so before I lost my job, and after about a year and a half, I was making a nice salary blogging full time. And while I love working in my home office and making my own hours, I must admit, I do miss working in the office environment.
For me, working in an office gave me the chance to get away from the craziness in my house. While I love both of my kids, they are both a chip off of the old block, which means they are high maintenance. Going to work each day allowed me to be around adults talking about adult things and contributing to making a Fortune 500 company a success. I felt like I was a part of something huge, and I liked the fast paced office environment.
I also loved shopping for office clothing. Anyone who knows me knows I am a clotheshorse, and I love fashion and looking fabulous. When I worked outside the home, I was always in business pants and skirt suits, slacks and blouses, and fab dresses. And while I do dress in more than just pajamas and a robe at home while working, I am not dressed to the nines. Dressing up everyday made me feel excellent. I know that everyone isn't a fan of this, but I am!
Another thing I miss is creating programs and initiatives for my office. I was always a go-getter, and going above and beyond duty is naturally a part of my Virgo DNA. I thrived working in a fast paced environment that is free of toys, crayons, and children's DVDs.  I totally miss it!
While I know that being a Mom Blogger is the cat's meow these days (and saying that you actually want to get away from your kids isn't met with positivity), I must admit that while I love what I do, there is a piece of me that longs to be back in my cubicle, slaving away for those corporate wages and perks.
On the other hand….I don't miss the office drama, the overtime, the missing of the kids' recitals, concerts and such, and the ability to take a nap anytime I damn well please.
So while I miss it, I wouldn't trade the life I have now for anything else in the world.
Life is pretty good around these parts! What's say you? Office slave or domestic goddess? Which do you choose?