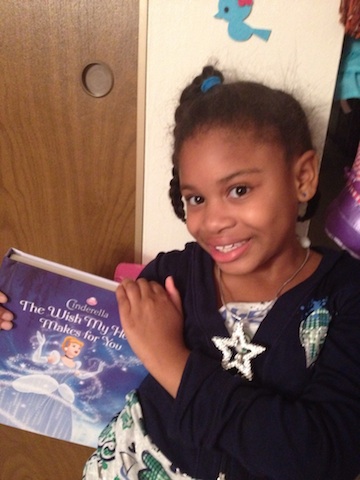 If your child is anything like mine, then they love storytime. It's a great way to bond with your children as well as encourage the love for reading. But, if your schedule is filled with days of travel for business like mine is, then you may not be able to have storytime with your child each and every night. Which is why I love Hallmark's Recordable Storybooks. I can record my voice and read to my daughter even when I am in another city. It keeps us close despite the miles in between us!
I have purchased several Hallmark Recordable Storybooks for my daughter, and recently got a copy of Disney's Cinderella 'The Wish My Heart Makes for You'. The entire princess theme of the book had my daughter wanting to read it over and over again, and we both even recorded us taking turns reading each page. So when she listens to it and reads along, she hears both of our voices.
The Chicklet is a huge Disney fan, so Hallmark's Recordable Storybooks are right on time.
Hallmark is also giving me the opportunity to give away four (4) tickets to Disney on Ice's Treasure Trove at the Chiefetz Arena in St. Louis. The tickets are for the 3pm performance on September 22nd, 2012. And, you also get a Hallmark Recordable Storybook!
To enter to win, all you have to do is follow me on Facebook and leave a comment below letting me know what your favorite Disney character is—we all have a Disney favorite (which mine happens to be Tiana from Disney's Princess and the Frog).
This is going to be a quick giveaway because the Disney on Ice show is almost a week away. This contest ends at 6pm on Wed., Sept. 19th and will be announced on Facebook. The tickets will be sent to you via Hallmark.
Get your entry on!
Disclaimer: I, The Cubicle Chick, received the book mentioned above as well as tickets to the Disney on Ice show in exchange for writing this post. All opinions and views listed are completely mine, and not indicative of Hallmark or Disney.