I love to shop! But when it comes to home appliances and electronics, that is where I need the most help. So when I was invited to a blogger event by Maytag and Whirlpool to see the new h.h. gregg in Chesterfield, I jumped at the chance. Being that the family and I are in the market for some new appliances around our home, I thought being in attendance would give me some insight on what to get.
Myself as well as several other bloggers attended a luncheon and store opening event hosted by Maytag and Whirlpool at h.h. gregg. It's a new appliances, electronics, and furnishings chain retailer opening around the country. The new location in Chesterfield is the second location opening in the St. Louis area.
At the event, we learned about Whirlpool's Induction Range, their new Black Ice collection of appliances, and their Duet Washers and Dryers. I was really impressed with all of these offerings, especially since they are energy savers and help save on energy costs.
We also learned about Maytag's Bravos XL Washer and Dryer, which I actually won during the event! I nearly jumped out of my seat when they called my name!
What I liked the most about h.h. gregg was that there store was well organized and very clean. No clutter or small spaces with a lot of electronics shoved together. There was plenty of space to walk around, try the appliances, and compare without feeling overwhelmed. I can't say that about other electronics and appliance stores.
Check out the photo highlights below of the event!: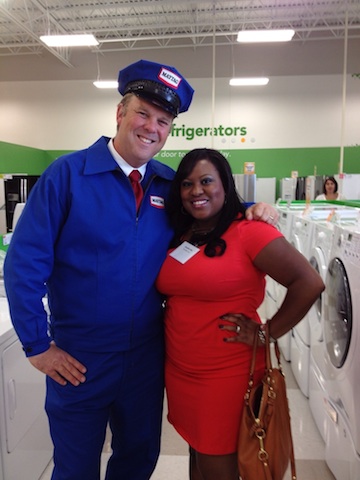 Me and the Maytag Man. Yes, he's real!
Whirlpool Induction Stove Range
Whirlpool's Black Ice Collection
I'm drooling at all of this space!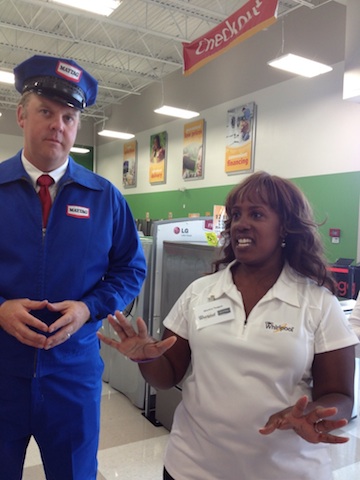 Learning all about Whirlpool's energy saving appliances
These are my "stain stats"—more on that in a minute
Here's a photo of the Maytag Bravos XL Washer and Dryer I won!
To see what type of washer and dryer you may need, you can use Maytag's Stain Stat calculator, that will calculate how many stains you and your family may have throughout the life of your washer and dryer (which is about 10 years). This is a great tool to actually quantify your family's "stain stats" and determine what type of washer and dryer you will need to help you combat those stains. You can visit the Stain Stats page HERE.
I had a great time at the luncheon and I can say that I will be back to h.h. gregg to check out more electronics and appliances.
The new h.h. gregg in Chesterfield is officially open now!
To see if there's an h.h. gregg coming to your area, click HERE.
Disclaimer: I, The Cubicle Chick, received no compensation for this post. The opinions in this article are mine and are not indicative of h.h. gregg, Maytag, or Whirlpool.