If you are anything like me, then you go to great lengths picking out the most perfect gift for your spouse or significant other. The exchanging of gifts between two people who love one another is a special thing—so I have put together a list of gift ideas for both men and women that everyone will love and enjoy.
When making these selections, I tried to keep price, quality, and meaningfulness of the gift in mind. And I don't want to toot my own horn, but I think that this year's list of gifts for your Boo is amazing.
Check out my 2013 Holiday Gift Guide: Gifts For Your Mate. Let's go!
For Him:
Kenneth Cole Reaction Show Business Satchel
For the guy who is always making moves and on the go, this leather satchel is perfect for work, travel, and more. With many pockets inside for laptop, tablet, smartphone, paperwork, and more, this satchel can complete his look and have him ready for whatever is on his calendar. Available in brown, black, and tan, this is an awesome gift that isn't only thoughtful, but will get a lot of use. $119.99 via eBags, Amazon. Click here for more info.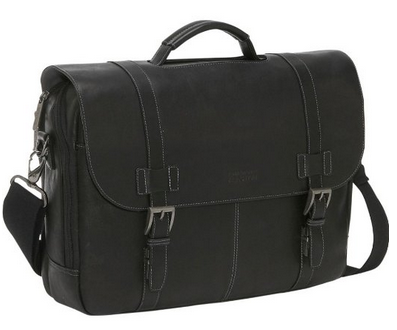 Velodyne vTrue Studio Headphones
If your guy is into music and high quality sound, he will love Velodyne's vTrue Studio Headphones. Velodyne has been known for years for their speakers, subwoofers, and audio equipment, but also has a full range of headphones for the discriminating musician and music listener. These headphones are ultra sleek and come with a pouch for travel. Made with forged aluminum, they are amazingly comfortable to wear and very futuristic. I was given a pair of these earlier this year and love the design as well as the quality of sound. $399, Velodyne. Click here to buy.
Polaroid OneStep Closeup Camera Kit by Impossible
Old school love deserves an old school gift that can bring out the "vintage" in your mate. Guys love tinkering with gadgets, and this throwback will certainly get and keep his attention. Polaroid is back with their instant cameras that deliver classic photography and style. If your guy is an urbanite and likes to give people something to talk about, then this is the perfect gift. The Polaroid OneStep Closeup Camera Kit by Impossible comes with 1 carefully refurbished Polaroid OneStep Camera, 1 pack of Impossible color film, 1 pack of Impossible black and white film, warranty card, and start-up manual. This is an actual vintage camera (which means it has been used), so there may be signs of wear and tear. Makes a great gift and conversation piece for your mate. $149.95, Red Envelope. Click here for details.
PlayStation 4, Sony
Want to be Girlfriend/Wife of the Year? Have a Sony PlayStation 4 underneath the tree and you are sure to get major props. PlayStation has remained the definitive and most popular gaming system on the market, and with their 4th release, are out to slay any remnants of competition. Some guys are XBOX guys, and most guys, well they are all about PlayStation. Do keep in mind that they PS4 is currently limited in supply since it's release earlier in November. I've been told there will be more units shipping out before Christmas, so if your guy is a gamer, make sure to cop him one. $399 and up. Currently, not available online.
Brooklyn Beer Making Kit
Does your man enjoy beer? Then he might enjoy making is own craft beer at home. This Brooklyn Beer Making Kit has everything he will need to create a cup of ale. $44.95, RedEnvelope. Click here to purchase.
For Her:
Prada Saffiano Wallet on a Chain
The Devil Wears Prada, so that doesn't stop a fabulous girl from wearing it either. If your wifey is into style, this haute wallet will make her swoon. Simply decadent and fashionable, you will be on her "nice" list for years and years to come. Available in variety of colors, if you have the cash to spend, this is a perfect gift for sure. Neiman Marcus, $610. Click here to purchase.
Moto X Smartphone, AT&T
Stylish Girls on the Move need fabulous gadgets and technology at their fingertips. The new Moto X is just what the doctor ordered. This Android device can hold all of her favorite and most used applications and you can customize the phone to her needs. You can pick out the color, welcome screen message, and much more. Two year contract may be required. Click here for more info.
Kiehl's Skin Essentials Kit
Kiehl's is known for their fabulous skincare and body care products. This kit contains everything she needs to keep her skin looking clear and refreshed. The kit comes with Ultra Facial Cream, Powerful Strength Line-Reducing Concentrate, Creamy Eye Treatment with Avocado, Midnight Recovery Concentrate, and a Kiehl's travel bag. Nieman Marcus, $89.00. Click here.
Large Handprint Canvas Set
If you and your wife have a family, then this Handprint Canvas Set is a heartwarming gift that she will love. It allows the kiddies to make a handprint of their tiny hands and makes it art. The canvas can be placed almost anywhere in the home and serves as a visual reminder of what an awesome mother she truly is. $39.95, RedEnvelope. Click here to purchase.
Samsung Galaxy Camera
I was gifted this for Mother's Day, and it has changed my life! This is one of the most awesome, user-friendly cameras on the market and is well worth the purchase price. This camera is a smart camera. It works on the Android OS and allows you to upload photos via 4G LTE or wifi. And since it is an Android, she can download her favorite applications like Instagram, Facebook, Twitter, Flickr, etc and share directly from the device. No need to wait to get to her computer. And, what's more, it takes video and has 16 MP, Optical 21x, 23mm Wide Zoom Lens. The pictures she can take with this camera are fantastic quality. Available in white and black. $499, B & H. Click here.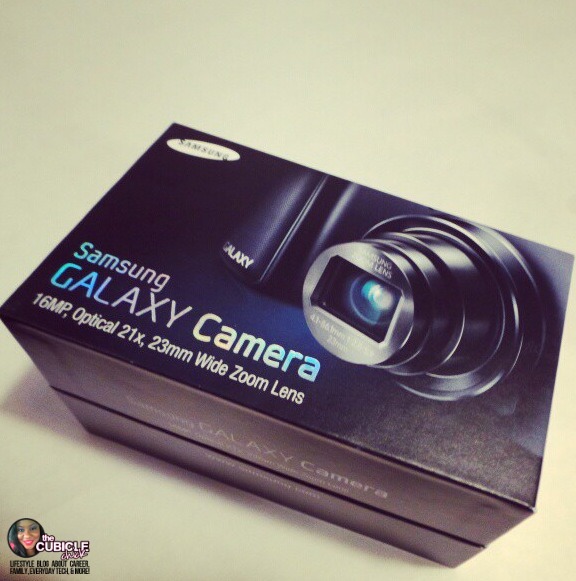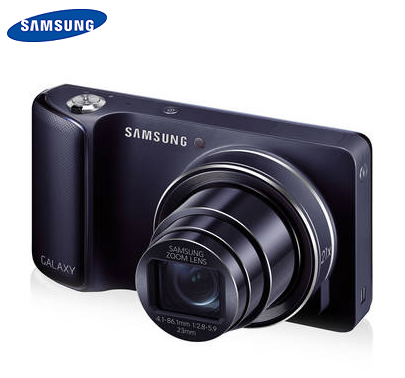 Being in love is one of the best gifts ever. And being able to give one another a token of your love and appreciation isn't mandatory, but makes a loving sentiment and statement. I hope that you found a few gift ideas in this edition of the guide. I had a lot of fun putting it together for you lovebirds!
To see our full 2013 Holiday Gift Guide with all six categories, click here!
Disclaimer: Some of the items listed in TheCubicleChick.com's 2013 Holiday Gift Guide were sent by the brand or company to us at no charge. This is not a paid nor sponsored post, and all opinions listed within belong to the author and are not indicative or any brands or companies mentioned.