The weekend before last, I traveled to Orlando to attend  Type A Bootcamp Walt Disney World. The day-long conference bootcamp event was spearheaded by Type A Parent, a conference and social network for parents who blog. One of the things that I've made sure to do since I began blogging almost four years ago was to attend conferences to learn and network with other bloggers. Type A Parent Conferences and their bootcamps have been a solid go-to for me to cultivate and grow my blog and my business. I highly recommend that if you are a parent who blogs that you make sure to go to at least one Type A Parent Conference. Also, being active in their community and social network is beneficial as well.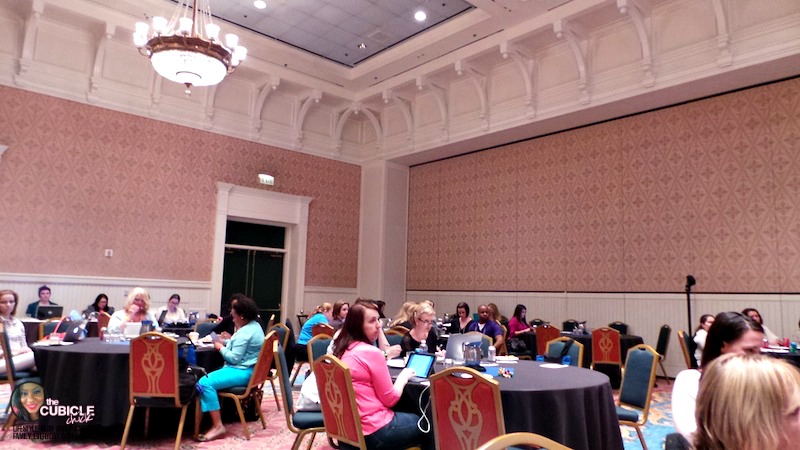 But enough of all that. The first of two Type A Bootcamps being held this year was all about Business and Brands and how to take your blogging game to the next level. Although the bootcamp experience is open to all bloggers, this event was focused on helping bloggers who have already had some time in the game with tools and tips that can help increase their income. As someone who has been blogging for about four years, I've been able to create a full-time income with my imprint—but also feel there is more that I could do to increase my visibility and readership, therefore, stepping up my income. My blog is my business and something that I take uber seriously. The sessions during Type A Bootcamp Walt Disney World were eye-opening and assisted me in seeing what I needed to do to step up my game.
Here's a rundown of just some of the things I learned while at Type A Bootcamp Walt Disney World:
Session, The Gentle Art of Negotiation
(Roo Ciambrellio, Tatiana Jordan, and Kelly Whalen)
Being as how I've been blogging for awhile now, I understand that negotiating is an integral part of what we do. But there were several key items discussed during the session that gave me reassurance that I am doing the right thing, even though it sometimes feels wrong. Here are a few key things that stuck out:
Show experience on all digital spaces. Don't make it hard for people to find out who you've worked with
Factor in taxes during the negotiating process. We do pay taxes and need to charge accordingly
Have a bottom line and stick to it
Don't be afraid to charge a rush fee if the client wants an immediate turnaround not within reason
Session, From Pitch to Paycheck
(Nancy Friedman and Rebecca Levey, Founders of Kidz Vuz)
I've done my fair share of pitching to brands and companies, but not as much as others, so I wanted to get some tools to help me sharpen my skills. I am so glad I attended this session, for there were plenty of gems dropped. Here's a few from my notes:
PITCH- prepare, identify, tell your story to the point, call to action, honesty
Prepare and own your brand. Know your brand and how it can best serve others. Know your numbers, your audience, and who you are.
Do thorough research on potential sponsors and brand partnerships
Keep a dream list of brands you want to work with
Don't over-pitch and get to the point when pitching while keeping it short
Have a call to action. END STRONG
Create a pitch spreadsheet and use an email database
Set aside one day a week for new business development
Session, Why Are You Here? Defining Your Goals and Creating a Mission Statement
(Ellen Gerstein, VP Sales and Marketing, BlogHer, Pamela King, Still Dating My Spouse, Andrea Updyke, Lil-Kid Things)
When I first started, I created a mission statement for TCC. Of course, my blog has changed since then, but my mission statement has not. I got some good info from the session and even shared a new mission statement that I am currently working on:
The mission of TheCubicleChick.com is to help and empower working parents and parentpreneuers positively navigate their lives with honest and thought-provoking content, while creating an income for my family.
A mission statement is where you are now. A vision statement is where you are going in the future
A mission statement states your purpose and defines your brand. It helps "ground you" to your blog
Your mission statement should be brief and flexible
Seek advice from others you trust when perfecting your mission statement
Tagline- advertising. Mission statement- PR
Session, Making the Shift From Blogger to Business Owner
(Theresa Ceniccola, Founder of International Christian Mompreneur Network and Adrianna Domingos- Lupher, Managing Partner & CEO, MSB New Media/NextGen MilSpouse)
This session was right on time for me, as I've been full-time for awhile now, but needed some direction. I personally know Adrianna and have seen her kick-assness in the blogging world, so I wanted to soak up some of her knowledge. The session was filled with a lot of A-ha moments for me.
Your goals don't become real unless you say it and plan it
"Whether you say you can or you can't, you are right" —Walt Disney
Establish a legal entity like an LLC or INC (DONE!!!)
Create a separate business account (DONE!!!)
Have a business plan (DONE!!!)
Don't be afraid to ask for help
Invest in your business. Have a dedicated work space or office (set boundaries, something I discuss a lot here on TCC with Work Life Management)
"Running a business means constantly eating humble pie" (THIS! All day!)
Closing Keynote: What Brands Want, What Bloggers Want, and How Everyone Wins
(Moderator Kelby Carr, Type A Parent, Valerie Daneen, Inner Child Fun, Katey Dietz, MSLGROUP, Leanne Jakubowski, Social Media Director, Walt Disney World)
This keynote was eye-opening as we got to "pick the brain" of brands who were willing to share what they are looking for and how they want to be approached. There were a lot of golden nuggets shared during this session:
Keep in touch with us (brands). Let us know what you are up to. Follow up. Let us know what your audience is
Don't take it personal if we do not approach you
As your audience grows, let us (brands) know
Go out of your way to cultivate a relationship
Create a networking journal
Following the day-long bootcamp, we indulged in a Evening Party sponsored by Disney Parks, which was a "chilling" experience in which we were surprised with a Frozen party complete with special drinks, foods, and fanfare all surrounding the film. And a special appearance from Elsa and Anna!
We were then left to our own devices as many of us hit Walt Disney World for some fun. I hit the Magic Kingdom with an awesome group of gals and spent the next day checking out EPCOT.
I left the bootcamp ready to do the work to help solidify my empire, plus got some amazing time in with many of my bloggy friends, while at the most magical place on earth. Who could ask for more?
I thank Kelby Carr and her Type A crew for such an amazing experience. And to the sponsors and Walt Disney World for helping me create memories that will last a lifetime. You can click here to read a review of my accommodations at the BoardWalk Inn Resort at Walt Disney World.
The next Type A Bootcamp is at Disneyland in June. It is sold out but there currently is a wait list, so if you are interested, fill out the form. The 6th Annual Type A Parent Conference will be held in Atlanta. Click here to get your tickets, but do so fast! There aren't many tickets left.