As a mom, I am always looking for things for my brood and I to do that is family oriented and something we all will enjoy. Now that my daughter is a tween (10 years and counting), she is developing her own taste in entertainment and such. Some of things she used to like to do are now "too little" for her. I do my best to pick out things that she will like, but that are also age appropriate. So when I was approached by the WWE to attend a taping of the #WWE Monday Night Raw St. Louis telecast on the USA network when it stopped here recently, I knew that it was something we all could enjoy.
I was a huge wrestling fan back in the day. St. Louis is known as a huge wrestling town with the likes of Jerry The King Lawler and such. And during the late 90's and early 2000's, I was an avid viewer of both Monday Night Raw and Smackdown. Personalities like The Rock, Stone Cold Steve Austin, Triple H, and Kurt Angle were some of my favorites. I even went to see events live when they came into town.
Not sure why I stopped watching it as much as I used to, but I guess life happened. My daughter was born and I began going back to school and working. But it didn't take much convincing for me to attend a taping of Monday Night Raw here, even though it had been years since I watched a broadcast. It was just what my family needed.
It's getting ready to go down! #WWESTLOUIS #wwestl #wwemoms @WWE @WWEmoms Monday Night Raw pic.twitter.com/aQPqxKOTYS

— Danyelle Little (@TheCubicleChick) April 28, 2014
The evening was filled with some of the best that WWE had to offer. We got to see John Cena and Bray Wyatt in action alongside other WWE stars Cesaro and Jack Swagger, and Kane with Daniel Bryan. Nature Boy Ric Flair even joined in and spent some time on the canvas. They say the circus is the greatest show on earth but I would have to argue that WWE is pretty close, if not, the ultimate in live entertainment.
Its going down; @JohnCena & Bray Wyatt. This is off-air #WWE #WWESTLOUIS #WWERaw #RAW #WWEMoms pic.twitter.com/DV35X2SlvE

— Danyelle Little (@TheCubicleChick) April 29, 2014
And what's even better? Hugh Jackman came into the ring to promote the new X-Men film. And when I say that he is spectacular in person, I wouldn't be saying enough. Be still my little heart!
Hugh Jackman, ladies & gentlemen. Woo wee! #RAW #wwestlouis #wwemoms #wwe pic.twitter.com/ak8rnjeKA9

— Danyelle Little (@TheCubicleChick) April 29, 2014
The WWE is a PG rated family affair that most everyone can enjoy. And with their anti-bully initiative 'Be a Star', and the WrestleMania Reading Challenge, they encourage kids to be good citizens and students. My tween doesn't get excited much these days, but she had a fabulous time during #WWE Monday Night Raw St. Louis—and I did too!
Here are a few photos from our evening: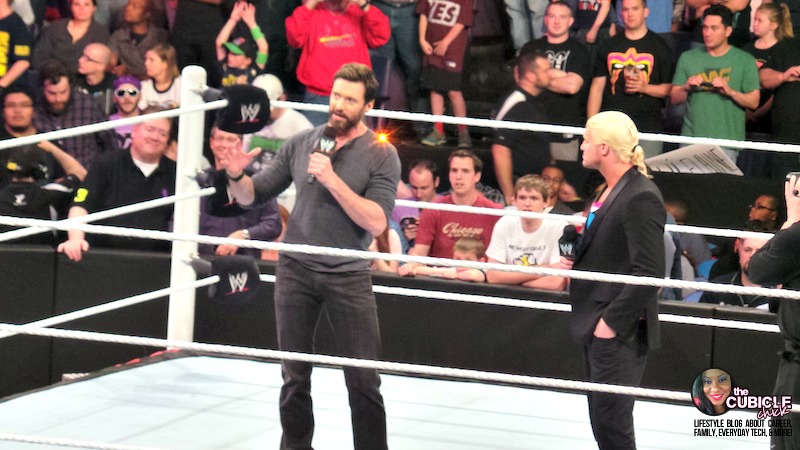 Are you a mom that likes wrestling and WWE? Make sure to follow the WWE Moms community on Twitter.
Disclaimer: I was given tickets at no charge for myself and my family to attend this event. This is not a paid or sponsored post, and all opinions expressed belong to me and are not indicative of the brand(s) mentioned.