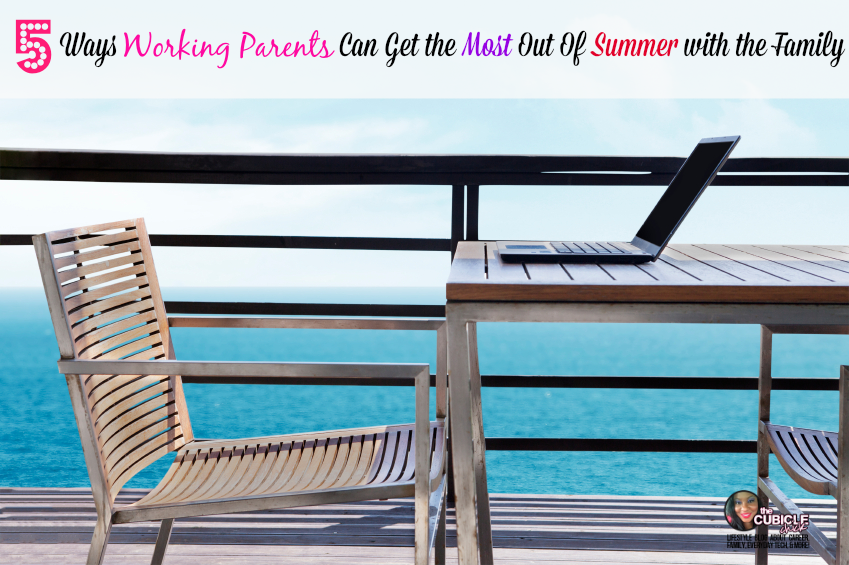 Summertime is the second Most Wonderful Time of the Year. But it is also one that may prove difficult for working parents, as they have to tend to their careers while the kids are out of school on summer break. As a working parent, I know this can be a huge hardship, especially since you want to be able to spend time with your kiddos and not be stuck inside an office all day. Working during the summertime is especially challenging, because the daily routine changes. The weather is nice and there is so much going on outside of the office—and you don't want to feel like you are missing out. So I wrote a list of five ways working parents can get the most out of the summer with family so that you can feel like you aren't missing out on anything while enjoying the summertime months with the brood.
Leave Work at Work
Working parents tend to bring their work home with them. And while this can help with productivity in the office, it doesn't do much for the family. I am a proponent of leaving your work at work (or delegating if you can) all times of the year, but especially summertime. Since the days are longer, when you get home, chances are it is still daylight and plenty of time to get some activities in with the family. Bringing your work home can interfere with the balance of your life, so do your best to leave your work at work so you can get the most out of the summer months.
Staycation
I understand that you may not be able to take a vacation away from your city, but how about a Staycation? You and your family can go to a hotel in or near your city and spend the weekend enjoying one another while being in a different setting. It's a wonderful time to bond and can bring you all closer. Most hotels have pools and other accommodations that are summertime ready, so indulge and enjoy.
Bring the Kiddies to Work
If your kids are out of school and old enough not to be a bother at the office, try bringing them with you a few times during the summer months. This can help them see what it is you do everyday, while giving you some time with them during the work day. Make sure to pack things to keep them busy like art supplies, tablets, and earphones. And before bringing them with you, make sure you check with the powers that be to make sure it is okay. When my son was 15, I brought hime to work with me once a week and had him file things in my office. He earned a salary and we got to hang out while I was at work. It was a win/win for the both of us.
Telecommute
If you can, see if you can telecommute or work a day or two each week while at home. Between phone calls and work duties, you can fit in some quality time with the kids.
Write a List
For the last two years, I've had my daughter write a list of five must-do things for the summer. We tackle the list one-by-one, and it makes her feel like she has some say-so in regards to our summer planning.
Lunch (Bonus)
Try to dip out of the office and have lunch with your kids once a week during the summertime. It's a great way to get recharged during a stressful day at work and creates memories that you both will share for years to come. If your child(ren) are enrolled in a summer program, take your lunch and spend it with them and go to their program. It's a lunchtime that the both of you will treasure. Summertime is awesome, so don't let the fact that you are a working parent get in the way. I hope these tips help you make the most out of your summer as a family.