Each week, I will take on the challenge of recapping the 14th season of NBC's Celebrity Apprentice for your pure amusement. Read at your own risk.
Celebrity Apprentice premiered this week with a bang. Sixteen has-been celebrities now firmly riding on the D list vying for a chance at relevancy during Donald Trump's entrepreneurial case study means must see TV for folk like me. As a career writer and entrepreneur, I enjoy watching Celebrity Apprentice. It's entertaining, nasty at times, and downright laughable, but there are also business lessons that are at the core of each episode, which I tuck away neatly in my mental notepad.
Season 14 of Celebrity Apprentice is full of reality TV show faves, washed up sports phenoms, and a couple of 80's kid stars. The interesting mix of backgrounds and personalities provide water cooler fodder, while we get to see who really has moxie and who, well, doesn't. My attention is focused on several contestants who I know will provide memorable tweets for the duration of the season: Vivica A. Fox (film actress), Terrell Owens (former NFL player), Kenya Moore (Real Housewives of Atlanta), Geraldo Rivera (Fox News), Kate Gosselin (reality star), and Kevin Jonas (Jonas Brothers) all look ripe for the picking, and might prove to give us a reason to watch. Ian Ziering (former 90210 star), Keisha Knight Pulliam (The Cosby Show), and Brandi Glanville (Real Housewives of Beverly Hills) are second stringers who may also come through for a sister for some interesting entertainment.
The season begins with Donald Trump meeting the contestants in front of Rockefeller Center. The group is divided into two teams, men versus women, and they are given their first task of making pies at Pie Face. The team who sells the most pies wins, and the team who makes the best tasting pie get a bonus.
Once situated in their offices, the women form Team Infinity, led by their first Project Manager, Keisha Knight Pulliam. The men unanimously vote Geraldo Rivera as their Project Manager, and duties and tasks are assigned.
So far, no bloodshed.
The men had a few issues at the start of their task. After arriving at Pie Face and tending to their posts, there were a few snafus in the kitchen. The women had issues following Keisha's lead, which is telling, because I felt they selected her as first Project Manager to throw her under the bus.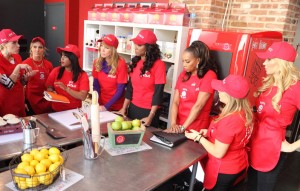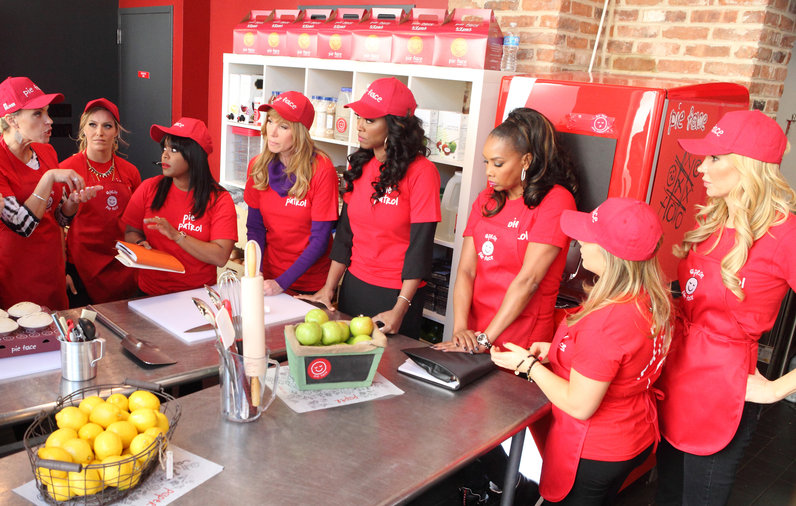 Kate Gosselin seemed the hardest to direct, given her overly Type A personality.
The next day, it's showtime as it's time to get the money through the door. Kenya Moore found it very interesting that when Keisha, aka Rudy Huxtable, named the list of donors she reached out to, her TV father Bill Cosby wasn't one of them.
Shade, but truth. And this could come to bite Keisha in the butt if her team loses.
The money starts coming in the door as Team Vortex gets some heavy hitting donations from Geraldo's contemporaries at Fox News; Bill O' Reilly and Sean Hannity both donate $10,000 in cash. Other generous donations come in as well.
For Team Infinity, they have a lot of customers coming in, but the donations aren't as high. You almost know how this is going to end, as Keisha continues to flail around as Project Manager.
All is not lost, though, Cake Boss Buddy comes in and judges both teams' sweet and savory pies. And it looks like the women's blueberry and pear pie is a shoe-in.
But it all comes down to money on Celebrity Apprentice. While each team had a lot of people coming through the doors, Kate Gosselin failed to bring in any money for Team Infinity and Lorenzo Lamas failed to bring in any money for Team Vortex.
All eyes moved to the boardroom as we learn who raised the most money for the first challenge. Team Vortex seemed extremely confident while Team Infinity seemed to be proud of their teamwork. Kenya was placed on the hot seat by Trump, and stated that their weakest link was indeed Project Manager Keisha.
No surprise there.
Geraldo is also brought to task for not knowing who raised what.
The women win $25,000 for having the best tasting pie according to the Cake Boss.
But the women lost the challenge by raising less money than Team Vortex. So Keisha had to bring in two others to the table so someone could be fired. After a little sparring back and forth between Keisha and Kate (because Kate raised zero dollars and felt Keisha did a bad job as Project Manager), and ultimately, Keisha selects Kate and Jamie Anderson (Olympic Athlete).
What we know is Keisha being Project Manager and not calling Bill Cosby for a check was reason enough for her to get fired, and she is ultimately let go. The first casualty of of Celebrity Apprentice 2015.
Two new episodes of The Celebrity Apprentice air back to back Monday on its regularly scheduled day.