Valentine's Day is almost around the corner. And if you are like me, you may find yourself bored with the store-bought offerings for kids' valentines. I always like to have a hands-on approach when it comes to giving things that are from the heart, and my daughter likes to create things that her friends with remember. While thinking of ways we would do personalized valentines for her classroom without breaking the bank, we came up with this Fun Chalkboard Valentines for Kids DIY Craft with things that we already had around the house.
I am a huge fan of chalkboard, so anything that I can make with it, I am game. During the holiday season, I bought a box of mini chalkboards for my holiday place setting, and I had so many left over, I thought I would use them to make valentines. You can buy mini chalkboards like these on Amazon or in your local craft store. They are usually sold with bridal and reception goods.
Once we had a "theme" for the valentines, we set out creating a fun statement. If your child's classroom is anything like my daughter's, then you may have kids who aren't allowed to have candy. So we wanted to make sure that we made all types of valentines that are personalized for the receiver.
Here's what we used:
Mini chalkboards
Chalkboard pen
Ribbon in different colors
Stickers
Hole punch
Paper for heart cut-outs
Glue gun
An assortment of candy
Anti Bacterial Hand Sanitizer
We have a valentine for the students who love candy, the student who isn't allowed to have candy, and even the teacher, too!
You simply write the name of the valentine on the chalkboard, then affix stickers and other fun stuff to the board. Then, using ribbon, punch a hole through the candy wrapper or paper heart, and use it to string with ribbon. Then tie the ribbon to the board, and viola! You've got a chalkboard valentine.
It doesn't take much time to assemble each Valentine (about 2-3 minutes each). You can easily set some time in the evening to do this with your child, (or for busy working moms and dads) spend a weekend afternoon creating them together. Once done, you have a fun chalkboard valentine for kids that isn't your average run-of-the-mill card!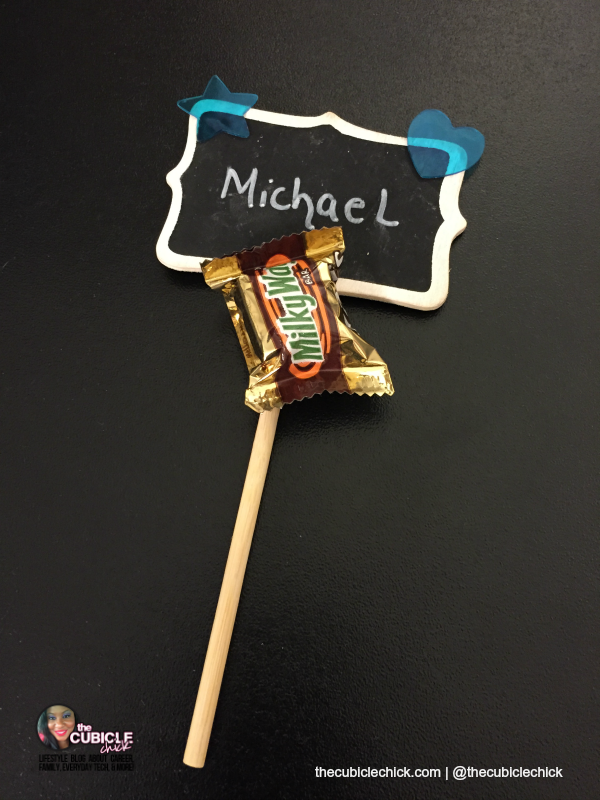 Do you like?