Disclosure: As a paid Blogger Ambassador for Avon, I will be discussing many aspects of Avon's brand; from the entrepreneurial side, to career, to beauty tips, Avon staples, and more in a series of posts. The opinions in these articles are mine and are not indicative of the brand.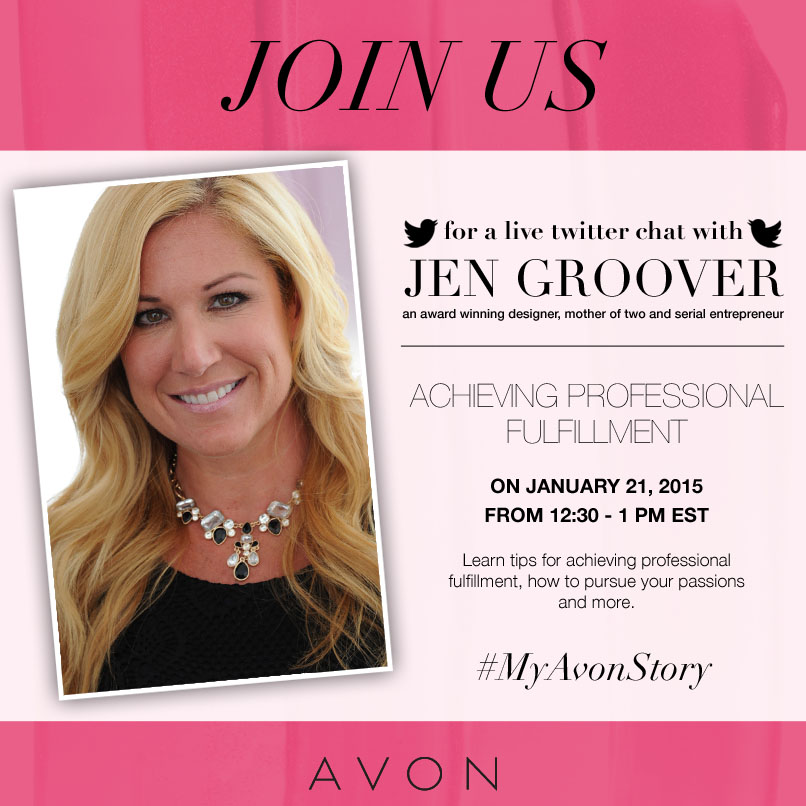 For the past two months, I have been participating in a series of #MyAvonStory Twitter Chats as an Avon Brand Ambassador. For the third and final installment in this series, Hostess and Serial Entrepreneur Jen Groover shared tips on Achieving Professional Fulfillment. As a Career and Lifestyle writer who is an avid proponent of Work Life Management, this topic struck a chord with me. All too often, we hear about the "myth" of women having it all personally and professionally. I believe that if you live your life thinking this is a myth, then yes, it probably will be. But if you strive for your ultimate balance (whatever that may be), you can achieve it. When we are professionally fulfilled, we are often personally fulfilled as well.
During the Twitter chat, Jen dropped many gems as always. What I love about her approach is she understands that when you love what you do professionally, you get the most fulfillment. The passion in your profession makes the dream WORK:
Professional fulfillment can be an important part of personal happiness, especially if you're doing what you love #MyAvonStory

— Jen Groover (@jengroover) January 21, 2015
When you do something you love, you tend to do it well – and you become motivated to succeed #MyAvonStory — Jen Groover (@jengroover) January 21, 2015
We each have a calling that is also probably in-tune with our passion. For instance, I have been passionate about helping working parents succeed personally as well as professionally. I came from a Corporate environment that was filled with mothers and fathers who were on the grind every day to ensure their families were taken care of. When I launched my own brand, I knew it had to be centered around my passion; and doing so has allowed me to create an income for my family while helping the very core audience I am also a part of. The work that I put in is work, but it is also love. I feel fulfilled and I know that I am living my purpose.  
Doing what you love leads to less procrastination and more accomplishment, resulting in increased confidence #MyAvonStory — Jen Groover (@jengroover) January 21, 2015
My hope is that for each and every one of you, that you find joy in what it is that you do professionally. And in doing so, that it creates a synergy in your life that can make all of your dreams come true in your work life and in your personal.  Your purpose is easy to find: just look at what brings you passion and joy. Then create your profession around that. You can create a platform like a blog centered around it, or you can start a business to help others. Or, you can tap into something that is already viable and build your empire that way. AVON is a brand that helps its customers become a part of the company and earn money while doing so. It's a business endeavor that allows its representatives to showcase their passions and earn an income.
So, there you have it. If you aren't fulfilled career wise, it can affect you personally. Tap into your passion and purpose and live your ultimate life. It's never too late.
If your passion & your profession are in tandem, others will be able to tell by the way you live your life. It will SHINE. #MyAvonStory

— Danyelle Little (@TheCubicleChick) January 21, 2015
(This post uses embedded tweets. If you are a feed reader or subscriber, click here to see the blog post in its entirety)

About Jen Groover
Jen Groover is a serial entrepreneur who's gone from guest-hosting spots on QVC to inking deals with some of the industry's biggest heavyweights. Her success began with the creation of the Butler Bag, the world's first compartmentalized handbag, and has evolved into an entire lifestyle brand, which can now be found at several prominent retailers. She's also behind Leader Girlz, which teaches young girls the importance of empowerment through play, and her newest brand, Empowered by Jen Groover. Groover is also an author, speaker and media contributor.