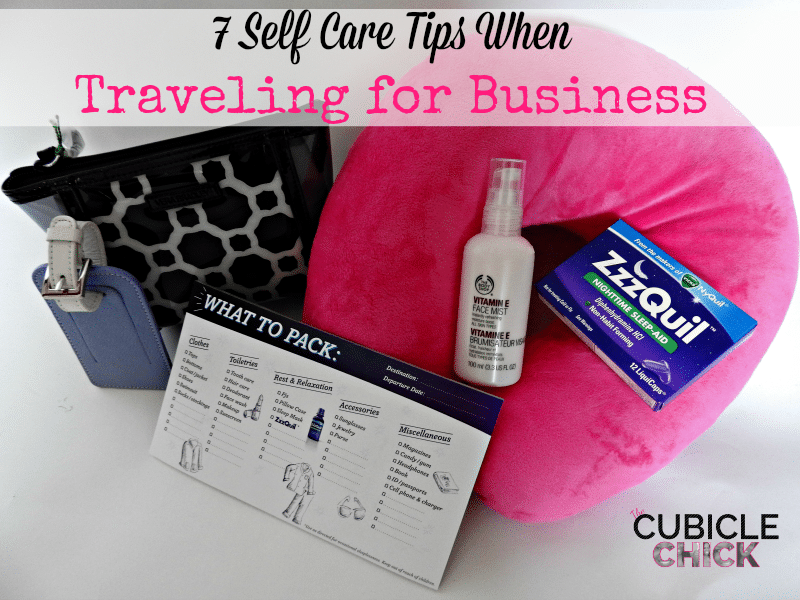 Disclaimer: As a member of the Vicks® Ambassador Network, I will be sharing my #TravelTipZzz related to their products and have received compensation. As always, I believe in honest storytelling as it relates to working with brands, and the opinions expressed in these posts belong to me and aren't influenced in any way.
If you are a professional careerist or entrepreneur, then chances are you do your fair share of traveling for business. Business travel plays an integral role in your overall game plan for world domination—it allows you to handle mergers, make deals, form integral business relationships, and perform at the top of your game. But it can also be taxing and a bit stressful. Being away from your family while operating your to-do list in a makeshift cubicle, airport, or hotel conference room does have its challenges. So it's important that you take care of you so that you can be on your A game to get the job done.
As a huge business traveler myself, I know the importance of self care while on the road. I'm usually in the air two to three times a month and often have to get work done with unreliable wifi and working out of my suitcase. But I never let them see me sweat because I make sure that during my down time, I keep myself at the highest of priority.
Here's my list of 7 Self Care Tips When Traveling for Business:
Log off
Make sure once you are completed with your work to log off of your computer and your smartphone to get maximum rest and relaxation. When I am on a trip for business, I do not answer any emails or business related texts between the hours of 8pm and 8am unless it's an emergency, allowing me time to rebound and refocus.
Take breaks to de-stress
During the day while you are on the road, it's important that you take regular breaks. You may be against the clock during your trip, but taking regular breaks will keep you going in a healthy way. Take a walk around the building, or steal some time away in an unused office to mentally decompress when you can.
Preorder
Breakfast is the most important meal of the day. And to ensure that you start your day off right, most hotels will allow you to order your breakfast the night before via room service. That way, you can't use the excuse that you don't have time. This can help you have an amazing day!
Power down
One hour before you go to bed, power down your laptop, smartphone (or put on DND), and other gadgets so that your mind can prepare for bed. Doing so will help you get a good night's rest, and this includes the TV in the room, too.
Sleep soundly
Getting a full night's sleep is important on and off the road. To make sure that I get a good night's rest, I make it a priority to get a full eight hours of sleep and I calculate it to ensure that it gets accomplished through time zone changes. If the hotel has a lot of windows, I use an eye mask to block out light for optimum sleeping. A white noise app also helps to get me relaxed and focused and can block out noise and distractions that I may hear in the hotel hallway.
And to ensure that I get a beautiful night's sleep, I use ZzzQuil™, from the makers of Vicks® NyQuil™. It is a non habit forming sleep-aid for the relief of occasional sleeplessness that helps you fall asleep easily, sleep soundly and wake refreshed. I pack it in my bag so I have it on hand, and I have used it on a few of my most recent trips to Arizona and Miami. So far, it hasn't let me down, and it helps me get the rest I need in a different sleeping environment.
Inspire yourself
Surround yourself with inspiring words, visuals, and music throughout your day to bring in positive vibes and happy thoughts.
Spa, please
If your hotel has a spa accommodation, then I highly suggest you use it. This can help you get the ultimate relaxation while you are away from home. A massage or facial could be just what the doctor ordered. And if the hotel has a fitness center, by all means, use it in order to stay active and fit while business traveling.
If you are a professional, business travel may be unavoidable. But luckily, your sleep doesn't have to be interrupted and you can utilize self care while traveling. I hope you've found my tips useful for your next planned trip.
For more #TravelTipZzz for traveling in style, check out these blog posts:
Beauty Sundae Summer Travel Essentials
Kelly in the City Travel Essentials
This post has been sponsored by Vicks® .
For more information about ZzzQuil, check out their Facebook and Twitter pages.
Share your #TravelTipZzz. You can also download a coupon for $1.00 off of ZzzQuil.