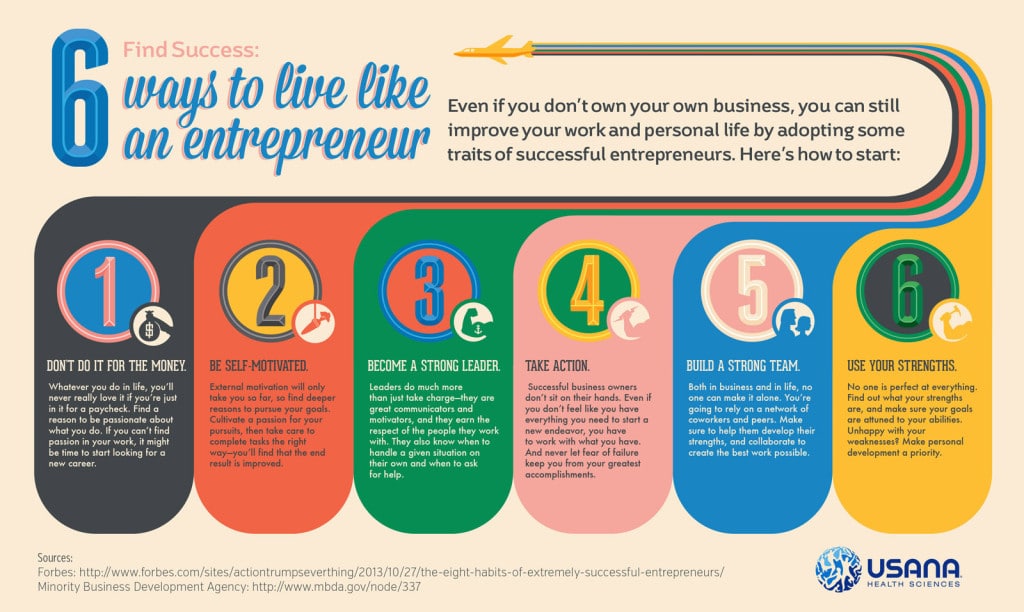 Want to be a successful business owner? Check out this infographic that shares 6 ways to live like an entrepreneur.
Many people dream of starting their own business.  You get the opportunity to work towards your own goals and make your dreams come to fruition.  You may find work more satisfying, the days shorter, and more freedom to do what you want.  However, not all of us can just leave our 9-5 and start pursuing entrepreneurship.
There are many ways to apply the values of entrepreneurs into your own life whether or not you're running a business.
Entrepreneur Values
Don't do it for the money
Be self-motivated
Become a strong leader
Take action
Build a strong team
Use your strengths
All of these are traits of entrepreneurs that can help you build stronger relationships whether that be in business, friends, or with family.
See the infographic below to learn more about how you can apply these to your day-to-day life!
What's your advice to live like an entrepreneur?
Do any of these traits resonate with you?
Let us know in the comments below!
This article was contributed by Samantha Thayer, BS, CHES, Online Outreach and Education Specialist at USANA Health Sciences.  Infographic design by Erik DeWaal and used with permissions.  For more information on how you can love life and live it, visit us at our blog What's Up, USANA? Or find us on Twitter @USANAInc