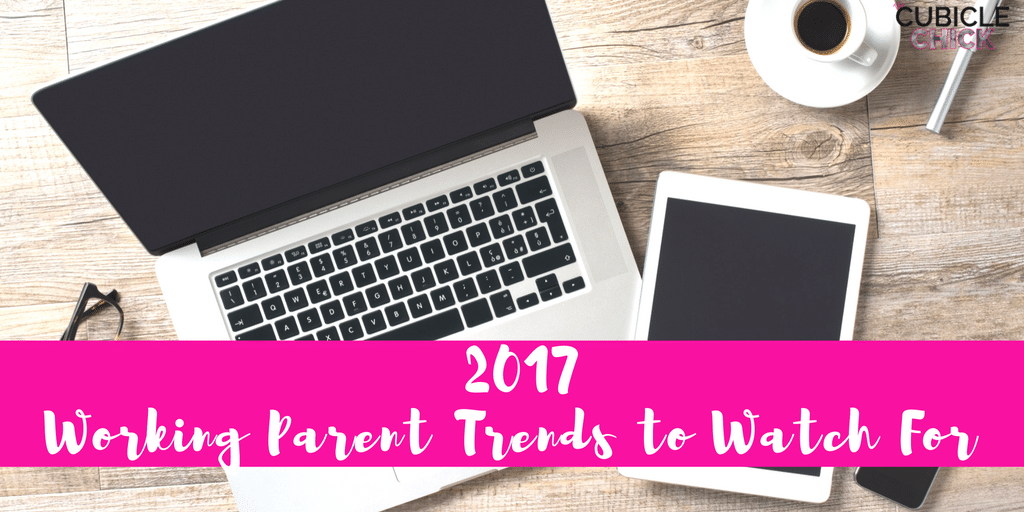 As a Working Parent advocate, I am always studying trends as it relates to professional moms and dads. Being as how most families these days have two parents that are working and contributing to the household income, it is a segment of the population that is overlooked. There are definite topics and subjects that are important to working moms and dads, so I have been studying the landscape in order to get a picture of what the future holds for moms and dads who work inside or outside of the home.
During the last three months, I've been compiling data that has allowed me to notate the shift in working parent trends. These are items that I feel will be a huge parent of the lifestyle for working parent families. While there are tons of changing systems, lifestyles, and roles, the following are the biggest 2017 working parent trends to watch for.
Companies Focusing on Expanding Maternal and Paternal Leave
Companies like IKEA are trying to help make Work Life Balance and Work Life Management a priority for their employees by offering substantial maternal and paternal leave. This not only helps the family unit bond, but helps ease the stress of a growing family by giving them time to strengthen.
IKEA now offers their employees up to four months paid leave. Most employers in the U.S. offer up to six weeks unpaid leave, but we will see this shift in 2017. Watch for more jobs following IKEA's lead and giving paid maternity and paternity leave with more options for families to expand and grow with support.
Sabbatical Life
A working parent trend that you will see emerge in 2017 is professional parents taking a year or so off in order to spend more time with their family. With an emphasis being placed on better managing personal and professional lives, a year off may be in order.
Working parents can prepare for the sabbatical life by dipping into savings, or cashing in something in the portfolio in order to live comfortably.
Many jobs in the corporate spectrum will grant an extended leave of absence up to a certain limit unpaid. Check with your company to see if you qualify.
Minimalist Lifestyle
Less is more! Gone are the days where we put an emphasis on accumulating a lot of items that aren't necessary. Look to see the working parent trend of getting rid of things that are no longer needed in order to achieve a more minimalistic approach to life that can lift a huge weight off of the family.
Empire Building
A 2017 working parent trends article would not be complete without talking about empire building with the family. No longer are parents spending time making their jobs' money, they will also begin to focus on achieving a strong self owned business that can help sustain the family while creating generational wealth.
Late Bloomer Re-entry
Working moms (and dads) who've been out of the rat race in order to stay at home and raise the family will now re-enter the workforce again and begin to complete professional goals that they may put on the back-burner.
This will create a shift in the workplace as millennials will begin to rival the amount of Baby Boomers in the office. In order to make this change viable and positive, communication will be key.
Rise of Work at Home Dads
For years, we've seen the catapulting of the Work at Home Mom, especially with the popularity of digital jobs and the gig economy. In 2017, we will see the rise of the Work at Home dad. He will be no longer hidden, but celebrated as he too works on bettering his personal and professional work life management.
Unplugged Parenting
Working parents are very busy with everything they juggle. In 2017, you will see more working moms and dads limiting digital use in the family in order to spend more time with the family, unplugged.
This will help build a tighter, stronger unit that is not too dependent on smartphones, tablets, and the world wide web.
2017 will be a huge year of putting the family first while creating stronger employees in both the personal and professional spectrum.
What working parent trends do you predict for 2017? What do you think of my predictions?