For many aspiring entrepreneurs, the ability to work for oneself in a full-time capacity is the ultimate dream goal.  And why wouldn't it be when we are inundated with luxurious social media visions of #BossChick freedom, fabulousness and grandeur on a daily basis?  While I am a firm believer of positive affirmations and ambition, there's something to be said about being properly prepared in order to sustain your vision.  The best thing that you can do for yourself is to create a solid plan for your transition rather than shooting from the hip.  I've comprised a list of 3 things for you to consider before leaving your job to become a full-time entrepreneur.
Define What Success Looks Like For You
Success is relative, meaning that everyone has a different definition for.  It's important that you take the time to determine what your success milestones are and what your ultimate end result is. Think about how you want your ideal work day to be structured.  Some people long to own a physical business location, while others may desire to create a business that is location independent.  You should also identify any conferences that you'd like to attend, venues that you want to speak at, specific people that you want to work with, and publications that you'd like to be featured on.  Lastly, list a specific monthly salary that you would eventually like to be able to pay yourself. 
Avoid comparing yourself against the accomplishments of others.  You have no idea what their success has cost them or if their values even align with yours.  Life moves fast and once you really gain momentum in your business it's easy to lose sight of how far you've actually come along.  Defining your major milestones upfront will help you to remain focused on the bigger picture at hand while celebrating your wins along the way.
"Where there is no vision, the people perish"  ~Proverbs 29:18
Take Inventory of Your Current Financial Status
As romantic as "Take the leap and you'll gain wings" may sound, being realistic about your finances is a vital component of self care.  Calculate the amount of baseline expenses (household + business) that you need to be able to cover each month.  Your baseline expenses will serve as your minimum monthly target revenue goal.  By doing so, you'll know, "No matter what, I need to make XXX each month".
It is also important to assess your current savings and credit standing.  Many experts suggest that you have at least 3 – 6 months of your monthly take home saved up in case of a financial emergency.  Aim for a number that feels right for you.  Personally speaking, there have been a few instances where I have endured slow sales months which took me at least three months to recover from.  Being proactive with your savings is a very wise thing to do. 
While you don't necessarily need perfect credit to start a business, a positive credit score will allow you access to more capital whenever you need it.  According to a 2014 CB Insights report, 29% of  small businesses fail due to lack of sufficient capital.  If your credit is currently in shambles, do your future self a huge favor and begin restoring it now while you have the support of consistent job income.
Unresolved personal finance issues will indeed find their way into your business if you do not take the proper steps to remedy them now.
"Get Your Financial House In Order." ~Unknown
Select Your Business Model
This is a critical consideration because it relates to how you will generate your money aka revenue.  Your business model will impact the frequency of your incoming payments.  Depending on the type of industry you are in, there are already few predefined business models that other people have experienced success with.  There's great value in having a general money blueprint instead of wasting time trying to "recreate the wheel".  Learn as much as you can about the business models which compliment your industry so that you can select a model that best fits your personality and temperament.
Take the online influencer/blogger industry for example:
If you wanted to move into such an industry full-time,  there are several ways that you could generate revenue such as sponsorships, packaging your expertise into consulting services or courses, and selling physical products on your website, just to name a few.  The possibilities are plentiful.
Another thing to keep in mind when selecting a business model is your desired level of interaction with other people.  If you are someone who likes to work intimately with others in order to deep dive towards a solution, a private one to one work model may serve you well.  However, if you prefer to help more than one person at a time you might find the group coaching model more conducive to your style.
Your marketing approach is also huge factor which impacts your business model.  Most businesses could benefit from using social media to reach your prospective customers.  The key question is "How will YOU use social media for marketing your business?".  You'll want to assess the planned frequency of your content and the amount of video marketing you will incorporate into your marketing.   Some people prefer to generate free organic traffic by creating viral content often, while others may prefer to produce less content and simply leverage target marketing by way of paid advertising.  There is no right or wrong way, just be sure that you select a business model that fits your unique personality type and financial budget.
Before You Quit Your Day Job
All roads don't have to immediately lead to full-time entrepreneurship.  Being a full-time entrepreneur is not a badge of honor.  Doing whatever makes you happy and taking excellent care of yourself in the process should be your focus.  There's nothing wrong with taking your time to gain the sufficient entrepreneurial experience required to fully understand the trends and cycles of your industry.   As your momentum grows, make sure you are building a nest egg in preparation for  your transition.  Entrepreneurship is a beautiful thing and with the proper planning you will increase your odds for success.   
"If you fail to plan, you are planning to fail!" ~Benjamin Franklin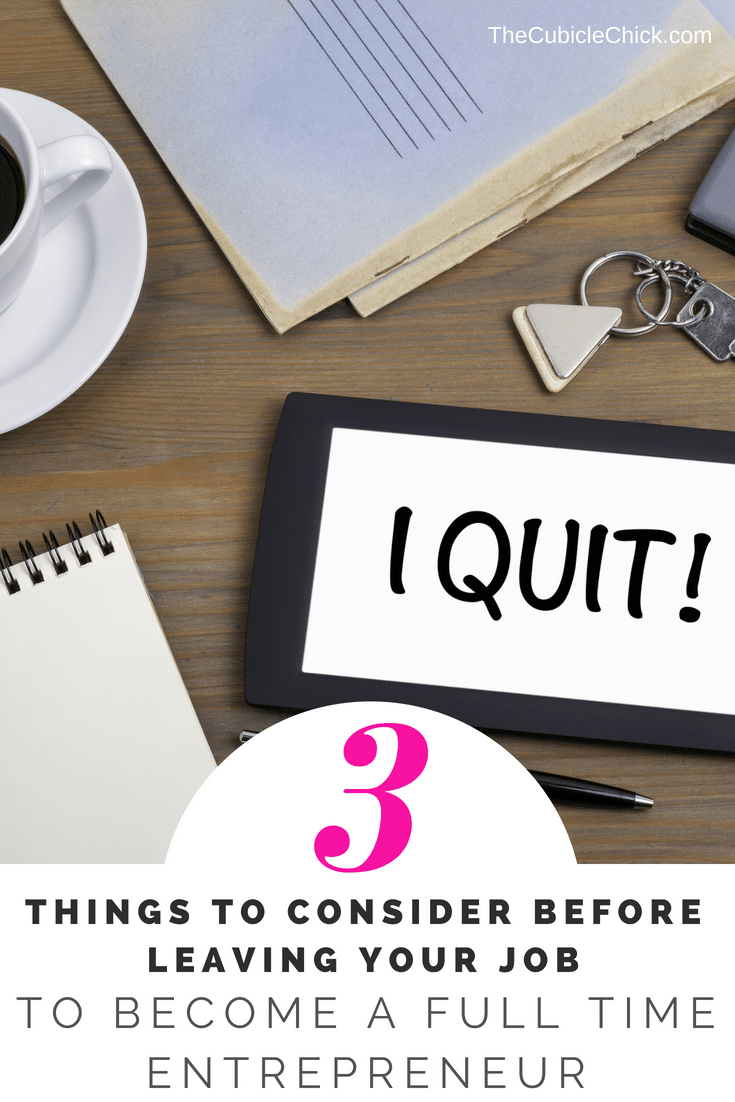 About Brandy Butler:
"With over 15 years as an IT Engineer working at major Fortune 500 companies, Brandy Butler is passionate about providing effective technical solutions to businesses.   She helps successful career women to reignite joy in their lives by reinventing their career paths to start and grow new businesses.  Brandy's clients learn to create influential brands which attract a steady stream of clients, media, and speaking opportunities.  She is a professional speaker, published author, and marketing strategist.  Her books "Girl Just Quit" and "Cubicle Exodus" have helped women to build their businesses on the side while they work their jobs.  Brandy has been featured in places like Success.com, Black Enterprise, Huffington Post, Blogging While Brown, BlogHer, The Black Life Coaches Summit, and Podcast Movement.  Her goal is to help you to own your worth, create a strong sense of well-being, and impact the world in a positive way."