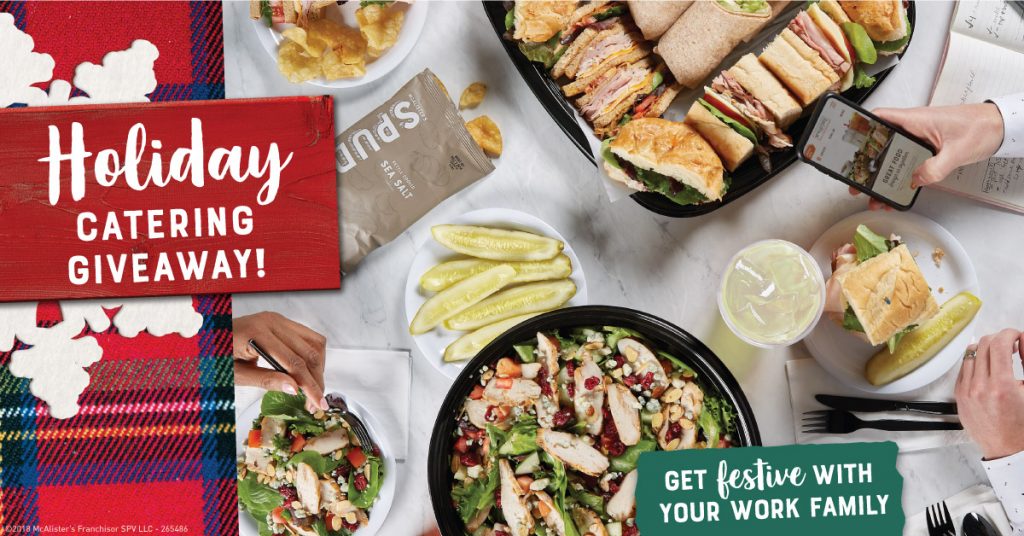 This is a sponsored post on behalf of McAlister's Deli.
It is no secret that many of us spend more awake time with our coworkers and colleagues than we do with our own families. With so many hours spent together, you've probably developed quite a fondness for one another. You may even have a Work Wife or a Work Husband, too! Which is why I am all types of excited to bring you a special opportunity for my readers and followers—a McAlister's Deli giveaway!
To help celebrate the season and get festive with your work family, McAlister's is offering an exclusive giveaway that you and your office will love. They are giving away FREE catered meals to lucky local offices to help them enjoy the holidays with their work families!
Here's what you will receive:
Catered meal valued at $200 (delivered right to your office!)

A gallon of McAlister's Pure Cane Sugar Lemonade and Famous Tea, plus flavorful menu options including sandwiches, salads, sides, desserts and more

McAlister's Deli coupons to spread the joy further with friends and family

Quality time to give thanks with AND to your colleagues
This McAlister's Deli giveaway is open from from November 30-December 9, 2018.
50 winners will be chosen, and you must live in the following areas: St. Louis, MO, Charlotte, NC, Raleigh-Durham, NC, Dallas, TX, and Jackson, MS. 10 winners will be selected from each of these cities. To enter, visit https://www.mcalistersdeli.com/holidaygiveaway.
What's more, McAlister's Deli has fabulous catering options for holiday work parties, lunches, and soirees. In addition to dine-in and take-out service, McAlister's also offers catering with a selection of sandwich trays, box lunches, desserts, a hot spud bar and more. They have over 400 restaurants in 30 states, and chances are, there is one near you.
Visit McAlister's Deli for more information about their wonderful menu options, and on their social pages:
www.Twitter.com/McAlistersDeli 
www.Instagram.com/McAlistersDeli
Here's to happy holidays with your work family, and good luck to everyone who enters!