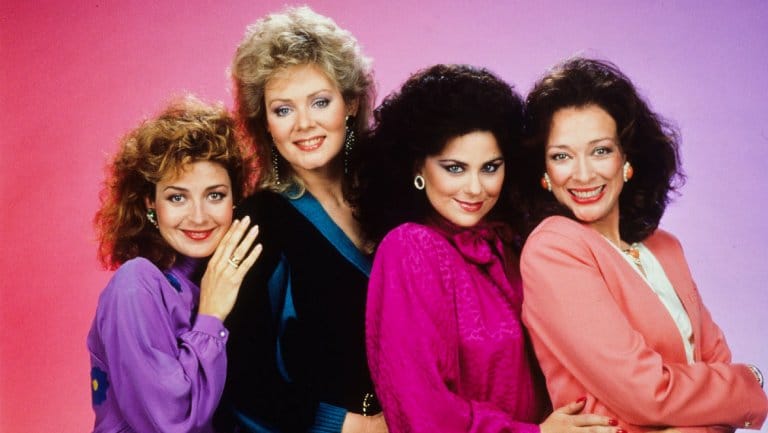 Okay, picture this: an 11 year-old girl growing up in Phoenix wants to grow up to be an interior decorator, business owner (or a news anchor), and then, voila—a prime-time television sitcom begins its first season featuring a woman who owns her own interior design firm alongside three other Boss women.
This is me, I am her, and this was my life back in 1986.
I began watching Designing Women with my mom on Monday nights as it aired on CBS, and I was instantly hooked. These women were like my adult spirit animals— Julia Sugarbaker was a no-nonsense business woman with a southern drawl that was elegant and defined, her younger sister Suzanne Sugarbaker was the sexy and seductive southern belle who was smarter than she appeared, Mary Jo Shively was the talent and creative behind the whole operation, and Charlene Frazier was the not-too-bright but well meaning office manager who somehow kept everything running in order. In each one of these women, I saw something that I aspired to be.
The series, which had 7 seasons, saw these women going through a variety of ups and downs, with a usual happy ending after 25 minutes. This was one of the first times that I saw a woman-owned business being featured as the backdrop for a TV show—a huge deal in the 80's, and I think it helped to usher in more Girl Power with shows like Murphy Brown and later Ally McBeal.
Hulu has recently brought this comedic gem of a series back for us to love, watch, and enjoy all over again, and it is becoming my nighttime before I got to bed ritual.
Here's five reasons why I am excited about Designing Women on Hulu:
Sitcom TV Sucks Right Now
I used to watch a lot of sitcoms, but now, most of them are just—meh. I love when digital platforms like Hulu bring back the oldies and goodies like Designing Women, a show that has real talent, real topics, and real acting. I think I appreciate Designing Women even more now because of how well-written it was in comparison to what's on television now.
Real Life Issues
Designing Women tackled some real issues that were major in the 80's and 90's. Feminism, weight issues, sexism, marriage, etc, were all topics that Designing Women featured alongside some epic dialogue. I was a pre-teen and teen when it was on the air, so many of those themes were over my head, but now that I am in my 40's, these topics really hit home.
Sisters Are Doing it For Themselves
I mentioned Girl Power earlier, but Designing Women was one of the first sitcoms in my heyday that featured an ensemble female cast. During that time, there weren't many shows doing that (Golden Girls was also front and center with an all-female leading cast), and I needed to see that when I was younger. Seeing women play business-owners and leaders in the community and women who were making badass decisions helped motivate me to also want to do those same things. I love that.
Oh So Messy
Did you know there was a lot of messiness behind the scenes which caused a shuffling of actresses, especially towards the end of the series run? Sisters on the show Dixie Carter (may she rest in peace) and Delta Burke had some disagreements on set which led to a feud that eventually caused Delta's contract to not be renewed. Knowing what I know now, seeing these actresses play these characters when in actuality, they disliked each other makes me appreciate it even more.
Anthony Freaking Bouvier
I loved Meshach Taylor's character (may he rest in peace), Anthony Bouvier, the inevitable and lovable assistant turned firm partner who was unlikely besties with Suzanne Sugarbaker and a comedic foil when the script called for it. Often referred to as the Black Jerry Lewis, his laugh and one-liners made him my favorite.
I respect how the writers of the show turned him into a real mainstay on the show, working him into the storyline when they saw fit.
Having Designing Women on Hulu is like a gift that keeps on giving. I am taking my time going through this series, trying to savor it all. Thank you Hulu for making me relive my teen years again. And please, Hollywood, no reboot. Let's remember Designing Women as they should be remembered—a classic.
For more Designing Women facts and tea, visit Designing Women Online HERE.