Thank you to Hallmark Channel for sponsoring this post.
It's no secret that I am a huge fan of Christmas movies on Hallmark Channel. You've seen me get excited and share my anticipation about their Countdown to Christmas movie selections. This year, they are sharing 23 original new movies, and I've been watching each and every one of them pretty much every weekend. It has become a vital part of my holiday celebrations, and helps me get in the spirit.
My favorite of Hallmark Channel's holiday movie fare is their Christmas In Evergreen movies, which are always the highlight of Hallmark Channel movie experience. Evergreen is a wintery wonderful small town that happens to bring love and joy every holiday season. This year, Christmas In Evergreen: Bells Are Ringing premieres on Saturday, December 5th at 8pm EST/7pm EST and stars Holly Robinson Peete, a staple in Evergreen.
Here's the synopsis for Christmas in Evergreen: Bells Are Ringing:
As Michelle's wedding approaches, Hannah steps up to help finish the launch of the new Evergreen museum while questioning her relationship and future with Elliot.
It stars Holly Robinson Peete, Colin Lawrence, Rukiya Bernard, Antonio Cayonne, Ashley Williams and Barbara Niven.
I love spending time with my daughter while noshing on a few snacks and watching Countdown to Christmas. I will be live-tweeting during the Christmas In Evergreen: Bells Are Ringing premiere, so make sure to join me. You can win a Holiday Celebrations package that includes:
Monopoly game: Hallmark Channel Holiday Edition
(1) The Republic of Tea Countdown to Christmas themed tea tin
(1) Hallmark Channel branded Ugly Christmas Sweater
(1) Hallmark Channel branded holiday mug
Tweet during the movie using #ChristmasInEvergreen and #CountdowntoChristmas and make sure to include @HallmarkChannel.
If you are interested in more official holiday items so you can showcase your Hallmark Channel Countdown to Christmas Energy, the following make great gift ideas–for yourself!
New holiday titles from Hallmark Publishing
Bissinger's Countdown to Christmas chocolate calendar
Hallmark Flowers
And, if you need more Hallmark Channel goodness, make sure to listen to SiriusXM's Christmas music destination, Hallmark Channel Radio and Hallmark Channels' Bubbly Sesh Podcast!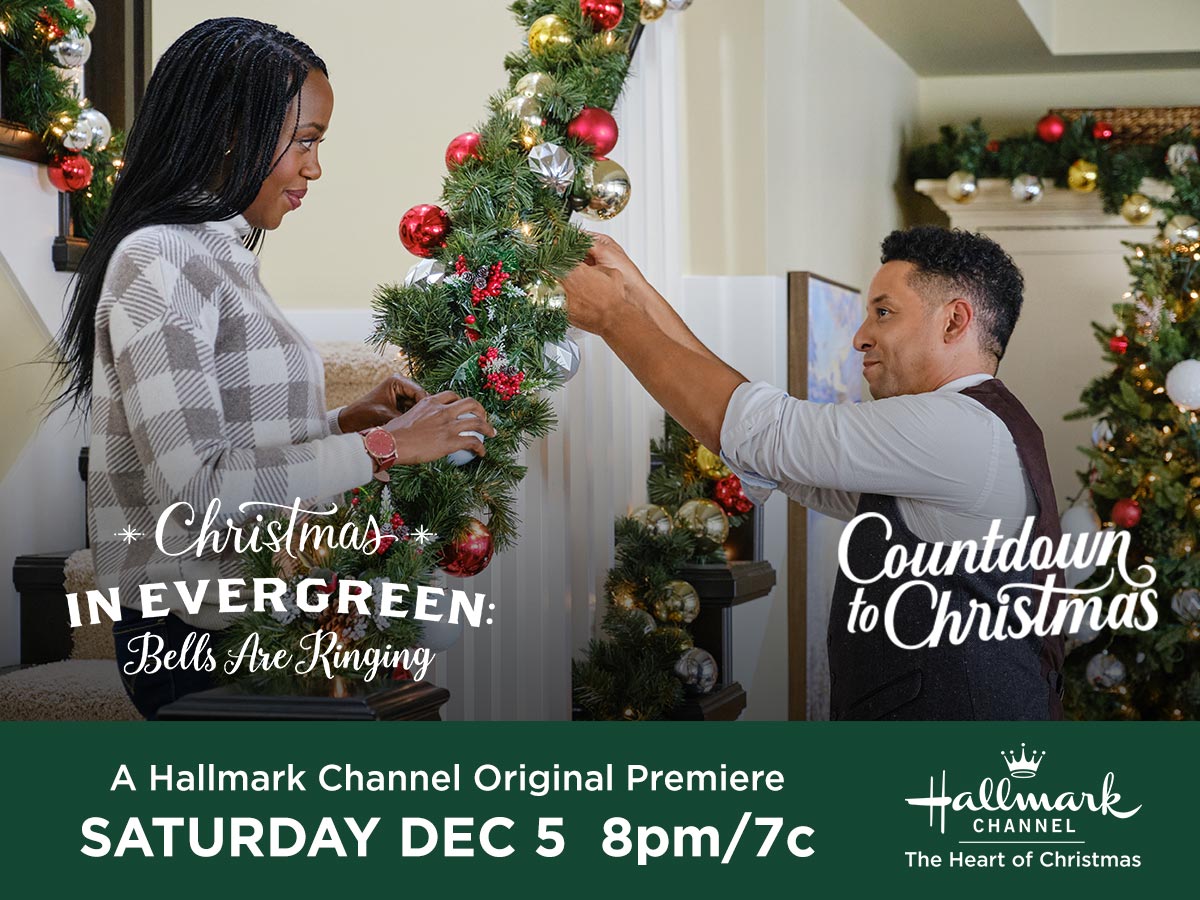 You can also enter Hallmark Channel's Very Merry Giveaway Sweepstakes HERE and the Holiday Home Decoration Sweepstakes HERE.
I'm looking forward to movie night! Are you excited to watch Christmas In Evergreen: Bells Are Ringing?