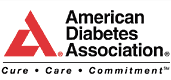 The month of November has been declared American Diabetes Month, and as a daughter of a father who currently is afflicted with diabetes, this disease is close to my heart (I also had gestational diabetes while pregnant and may encounter this disease when I get older). My father was diagnosed with diabetes about three or four years ago and since has been placed on medicine to control his condition as well as a diet that maintains proper insulin levels. If you would be so kind as to click on the link included in this post of the American Diabetes Association and learn what you can do to help this cause.
My father and others with this disease thank you.
Also check my Twitter at @TheCubicleChick for updates, information, and statistics regarding diabetes and its effects on our communities and the world.