I am such an 80's girl it's pathetic. I turned five years old in 1980 and that decade signified so much for me. When it was over, I was 14 years old, but I had experienced so much in terms of movies and music that it stands as being my most favorite decade ever!
Who can forget the hairbands, the jellies, moonwalking, and Pac Man? Aww, those were the days!
Teen cinema was in its hey day back then! Molly Ringwald and the rest of the "Brat Pack" crew was in full effect, and there were so many movies released during that time that became instant classics.
The only problem that these movies had were there weren't many African Americans represented.
Here is a list of my Top 15 80's movies!
15. She's Having a Baby- Not necessarily a teen movie per se but it was written and produced by the teen movie king, John Hughes. It was semi-autobiographical tale of a man who finds love, marries, has a baby, and learns that he has no regrets.
14. Krush Groove- This movie is not in the  whole "brat pack" genre but it was epic for it's time. Featuring rapper LL Cool J and artists such as New Edition and Sheila E., it took hip-hop and put it on the big screen.
13. Heathers- If you don't like Heathers, then you are not an 80's fan. This film introduced Winona Ryder to the masses it made it cool to kill your friends. No really. And Christian Slater wasn't too bad either.
12. Weird Science- Anthony Michael Hall was the quintessential 80's nerd, but Weird Science made him likable. A definite 80's staple.
11. Goonies- This quirky tale about teens searching for a treasure map is not only funny, but utterly 80's. I think this is the movie in which I fell in love for Corey Feldman. What was I thinking?!
10. Stand By Me- The coming to age tale of five boys facing their fears during the summer of yesteryear. Starring River Phoenix (may he rest in peace), Jerry O'Donnell, Wil Wheaton, and Corey Feldman, it's a tear jerker no less.
9. Pretty in Pink- Molly Ringwald plays a girl from the other side of the tracks. Andrew McCarthy plays the rich boy with a heart. Jon Cryer steals the whole damn show. Typical 80's love story.
8. Fast Times at Ridgemont High- I was a little young when this movie originally came out, but thanks to having cable (you remember the big cable boxes with the sliding numbers and alphabet?) I came to love this movie. It's crass, straight up rude, but oh so good! And who knew Sean Penn would go on to be such a good actor?
7. Purple Rain- You cannot mention 80's movies without mentioning Purple Rain. Not so much a teen movie in the teen sense, but it was a guilty pleasure of ours. When this came out in 1984, I was not allowed to even see it. But thanks to Betamax, I got to see what the chatter was about. I love me some Prince!
6. The Outsiders-The Outsiders was a who's who of Hollywood teens including Ralph Macchio, Matt Dillon, Rob Lowe, Patrick Swayze, and others. Based on a book by the same name, this movie was a tear jerker and a solid 80's teen film.
5. The Breakfast Club- Detention on a Saturday was unheard of back then, but that didn't stop John Hughes from making a coming to age flick about teen angst, love, acceptance, and hope guised with comedic undertones and dramatic confrontations.
4. Just One of the Guys- Cute flick about a girl who becomes a boy to prove a point. I can't even remember what the point was but it's a classic film with plenty of 80's moments.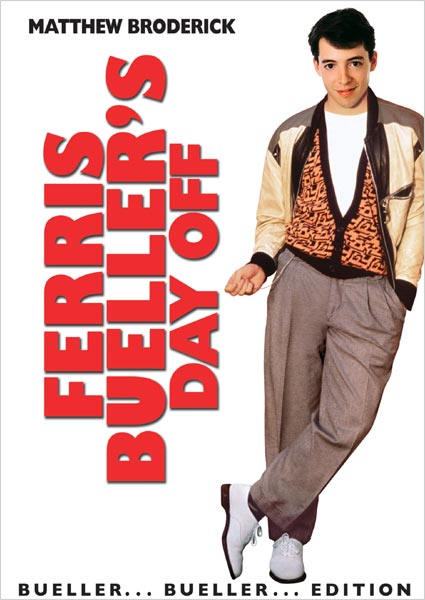 3. Ferris Bueller's Day Off- Matthew Broderick was the coolest dude in the picture. Everyone wanted to be like him, the one that got away with everything. This is another John Hughes classic film with tons of action, debauchery, and comedic timing that makes it an 80's gem!
2. Dirty Dancing- If you don't like Dirty Dancing (the film silly) then you are  heartless. Yes it was quirky and cheap and didn't have good acting but the dancing and the music more than made up for it.
1. Sixteen Candles- This was the film that broke the mold when it came to teen 80's movies. Great script and cast with Molly Ringwald and Anthony Michael Hall and one of the best storylines of all time. "They forgot my birthday."
Do you agree with my list? Is there a movie you would add that is not in my Top 15? Sound off on the comment section below!
Honorable Mentions-
Gremlins
Footloose
St. Elmo's Fire
Can't Buy Me Love
Loverboy
Karate Kid
Less Than Zero
Say Anything