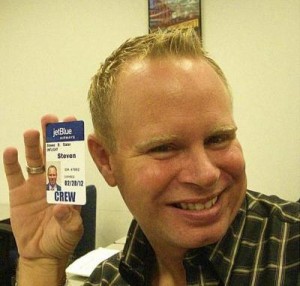 We all have heard the story of Jet Blue flight attendant Steven Slater. Apparently having "a bad day", Slater slings a set of expletives at a passenger whose luggage hit him in the head and then proceeded to get on the loud speaker and curse everyone on the plane out. As a "dueces" to the people on the plane and his job, Slater grabs a beer and utilizes the plane's emergency exit chute and makes his getaway to his car. I guess he thought he was going to ride off into the sunset?
WRONG.
Slater was later arrested at his home in Queens and was charged with criminal mischief, trespassing, and reckless endangerment. He has a rap sheet now, but as I read tweets last night from people who were discussing the matter, it seems that he is a sort of hero amongst many working people who love the fact that he gave his job "the finger" in the most flamboyant way. I get that a lot of people would love to tell off their bosses, clients, customers, and coworkers, but should we really be applauding Slater's behavior?
Perhaps there were children on the plane who actually had to sit and listen to his unabridged tirade? Is that something to applaud? If he was so unhappy with his job, couldn't he have just wrote his letter of resignation and be done with it?
Or perhaps he's looking to be on a reality show…
Who knows. I get it. There are plenty of people who are disenfranchised with their jobs and abhor their cubicles. I for one, chucked a deuce to my cubicle several months ago and began working on my own. It's been a very rewarding and therapeutic experience to say the least, but I never thought about leaving a job under some grandiose circumstances. From an HR perspective (which is my background), Slater's act was abominable. I wasn't feeling it at all.
And cheering about it does…what? If you hate your job, making Slater the hero doesn't improve your situation. Maybe you should look for another one? Especially in this economy where the unemployment numbers are sky high—there are hundreds of  thousands of people who would be happy to have Slater's job.
This is just my two cents. Maybe because I am an HR stiff, makes it hard for me to separate the act from the employee negligence on his part.
What are your thoughts? Is Steven Slater a hero in your book?