I love me some 'Flipping Out'.
The reality series, which follows house-flipper, interior decorator, designer, consultant, boss, and obsessive-compulsive ridden Jeff Lewis and his small crew of employees as they make Los Angeles's homes that much beautiful, has become a guilty pleasure of mine. For those of you who may not watch 'Flipping Out', this may sound a bit boring to you, but to diehards like myself, 'Flipping Out' is good television. Snarky Jeff Lewis is the man you love to hate and he runs a tight ship. So much so that you cringe when he continuously verbally abuses his staff of employees. I have no idea how they are able to work under those conditions, but Jeff also proves to be an old softy by providing 'happy hour' drinks during work time and even bought his housekeeper of 11 years a car.
Yes, Jeff Lewis isn't all that bad.
But what I watch 'Flipping Out' for most is Zoila Chavez, the Nicaraguan, hardworking and smartmouthed housekeeper who gives Jeff Lewis a run for his money with her quick wit. She is pure entertainment, so much so that I often think she would make a great reality television subject of her own.
Add to that, Jeff Lewis' assistant Jenni who is a wanna-be actress who provides comic relief (and song and dance) on the show in her interesting fashion ensembles, and his "sister-in-law's sister"  Sarah, complete with the blonde ambition to go with her hair color and it's a trainwreck you must watch for yourself.
This season, we have seen Jeff grow in his role as designer as he has maybe bitten off a little more than he can chew in terms of projects. Will he explode? Will his obsessive/compulsive disorder get the best of him?  Will his staff actually stand up to him when he blows a gasket?
While watching the finale, Jeff has really calmed down. He's more tranquil. Professional. Reserved. Still slick with the tongue but diluted just a bit. Guess we have to wait until next season to see if these changes Jeff has made stick.
What do you think of Jeff Lewis and 'Flipping Out'?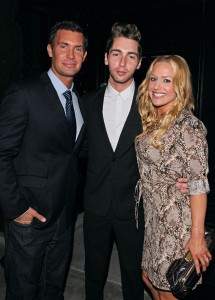 Jeff Lewis, left, pictured with Trace and Sarah from 'Flipping Out'