As a certified foodie and sometime-chef myself, I covet gifts that involve food, kitchenware, and cookware. Gifts that involve these varieties always go over well with the food enthusiast in your life. So it was fitting to select 8 great gift ideas for the foodie and chef in your life.
Get a load of these:
This DeLonghi Slow Cooker offered on Crate and Barrel is the Mercedes Benz of "crock pots". With a stainless steel build and a digital display, this appliance is a cooker's dream. With touchpad controls and programmable timer, this is a must for the chef/foodie on your list. $99.95, CrateandBarrel.com
I am a Food Network fan, and Ina Garten, aka The Barefoot Contessa, is one of my favorite cooks on the network. Her meals are always lavish and flavorful, but aren't too complicated for a novice like myself. Her latest book, How Easy is That, would be a perfect addition to any foodie or chef's collection. $18.90, Amazon.com.
There's something about wearing an apron that makes even a beginner cook like me feel super experienced. The gift of a personalized apron for the foodie in your life is quite a gift! Make one for your chef and watch 'em smile! Williams-Sonoma, $29.00, free shipping. Available in black, denim, blue, white, khaki, and dijon.
Several people on my gift list received this stocking stuffer from Omaha Steaks. For only $39.99, you receive 4 5 oz. filet mignons, 4 4oz. Omaha Steak Burgers, 4, 5.75 oz. stuffed potatoes. Foodies unite!
Celaphon cookware and bakeware is the gold standard for foodies and would-be chefs. Durable, long lasting, and affordable, I wish I had more Celephon in my life. This 6 piece bakeware set from Celephon is a steal at only $29.95 from Amazon.com. And did you know it was non-stick?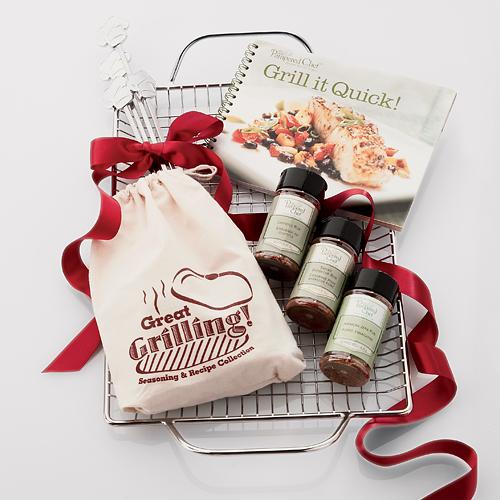 The Pampered Chef has many gift ideas for the foodie/chef in your life, but this one is especially cool for the griller who spends their time preparing meats and other foods on the grill. The Pampered Chef Great Grilling Set is $66.50 and comes with the following: BBQ Grill Tray, BBQ Skewer Set, and Great Grilling! Seasoning and Recipe Collection. Grill on, grillers!
Sometimes, giving the gift of a good meal is a perfect present. Restaurant.com has e-gift certificates that can be emailed to the foodie on your list, and can be redeemed at thousands of restaurants across the country. You can even customize the design and message. Who would turn down a free meal?
Eli's Cheesecake is one of the 7 wonders of the world—I promise you. I am not a huge cheesecake fan, but I love Eli's and have ordered several cheesecakes over the years to send to friends and family. Choose from a variety of cheesecakes, you will be a foodie's best friend with a gift from Eli's. Cheesecakes start at $30.00
So there you have it, folks! 8 fabulous gift ideas for the foodie or chef in your life. I guarantee that either one of these gifts will be a coveted treasure to the recipient. Thank me later!
I, The Cubicle Chick, have not been compensated to review any of the items above. However, since disclosure is a must, I have been given several of these items for my honest evaluation and critique for consideration for my 2010 Holiday Gift Guide.