After watching part 2 of RHOA's Reunion show and Bravo's Watch What Happens Next Live this past Sunday, viewers were treated with a special treat—a sneak peak at the first episode of the Real Housewives of Miami. After being suddenly thrust into the spotlight after the Real Housewives of New York went bust (they needed more time to film and edit their next installment), Andy Cohen and the powers that be at Bravo decided to flip the script and premiere RHOM ahead of schedule.
I watched the entire preview episode as well as the full premiere show last night, but I wasn't impressed with this latest stable of Real Housewives. For some reason, they either seemed too old or too plastic to be entertaining. But since it is one of the best franchises on reality television, I will give them a few more tries before calling them a complete bust.
Larsa Pippin (wife of former Chicago Bulls player Scottie Pippin) looks like she is going to cause some problems this season, and PR firm owner Marysol Patton seems like she will bring some comic fodder to the group. I guess we will have to stay tuned to see what develops!
Here are pics of the RHOM cast at their premiere party at Eden Rock on Miami Beach.
What did you think of the new RHOM cast? Snore, bore, or adore?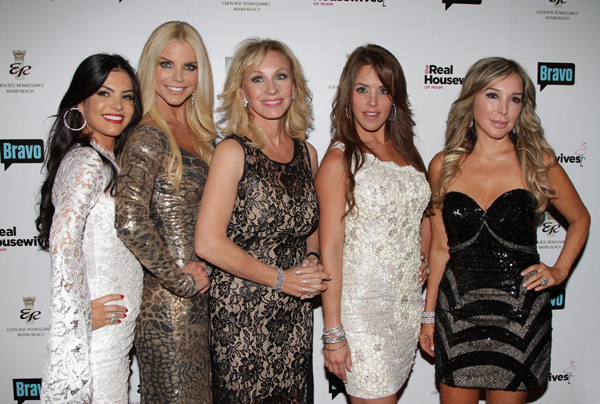 Photo Credit: Wireimage/Getty Images