If you are anything like me, then you love buying office supplies. You get enjoyment and glee out of going to your nearest Office Max, Staples, or Office Depot to get your fix of office items—you can't get enough of sticky notes, pens, decorative journals, and not to mention calendars, Sharpies, and the latest and greatest in office decorative items. It can (and does) become an addiction.
During back-to-school season, we concentrate on buying everything the kids need for their school days, but it's also a time where I also stock up on items I need for my home office. In doing so, I have found some really fabulous supplies that can help increase your workflow and make your office or cubicle look groovy in the process.
Here are 6 Must Have Supplies for Your Office or Cubicle:
Command Damage Free Hanging Hooks- If you are in a cubicle, chances are you are always changing pods. These Command Damage Free Hanging Hooks I was sent are perfect for your cube, because you can temporarily hang your purse or decoration on our cubicle wall without commitment. And when you move desks, you can easily remove the hook. Cool, huh? RP: $4.99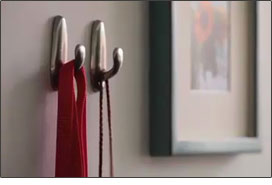 Post-it Pockets- Need a go-to place to store those lunch menus, important memos, or to-do lists? You can organize yourself with Post-it Pockets that stick without causing damage, and can be removed from any surface without headaches. They are also good to stick in the insides of binders, scrapbooks, and planners. RP: $12.99
Post-it Flag+ Highlighter & Pen- Don't you hate writing with a pen and then having to put the pen down and reach for a highlighter to amplify your notes? With this highlighter, you have one pen that does both—and you can flag a page for easy access while working. It's a 3 in one dream, and my personal favorite. RP. $7.99
Scotch Restickable Shapes- I love hanging pictures of my kids everywhere. And in an office where I change pictures quite often, I like using these shapes. You can stick and reuse on most any surface, and they come in cute shapes and colors. For a fabulous chick like me, these come in handy. RP $4.99
Post-it Pop Up Note Dispenser- Tired of never being able to find your Post-it Notes in the abyss that is your office desk? Then the Post-it Pop Up Dispenser is perfect. With a sleek design that looks cute on any desk, it's awesomesauce. I have one from the Pebble Collection that was created by award winning designer Karim Rashid and really dresses up my workspace and makes it look neat and tidy. RP $14.99
Post it Multi Use Labels- My daughter continues to steal these, so I haven't put them to use yet. But what I do know is that they are super sticky and have cute designs on them that can make whatever you are labeling fun and colorful. Put on lunches, folders, notebooks, et al and dress them up a little bit. You can also write on them and apply whatever special message you'd like. RP: $3.20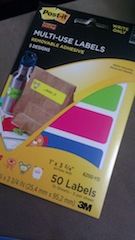 Working in an office or cubicle doesn't have to be drab and mundane. These items I have mentioned will make your workspace fun, colorful, inviting, and well, not the ordinary. Try them yourself and see how you like them!
I, The Cubicle Chick, received the above mentioned items at no cost to me for review consideration on my blog. And although I like freebies, the opinions in this post are mine and aren't influenced in any way by anyone else. In other words, I say what I want 🙂