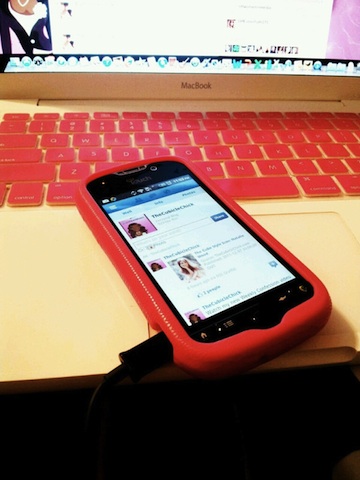 Being a Cubicle Chick, a Digital Debutante, and a mom on the go isn't easy. I am constantly on the run, attending meetings, going to events, traveling, while trying to stay in touch with my kids and loved ones. I wouldn't be able to do that without my smartphone. Having a phone that can keep track of my schedule, keep me in the loop on my social networks, and allow me to conduct business, as well as share photos with my friends and family are just a few of the things my smartphone lets me do. Without it, I cannot run at full speed.
Yes, this smart mom uses a smartphone.
My grocery list is kept on my phone. And since it's always with me, I never have that "oops, I forgot the grocery list at home" moments. I also love the ability to send and receive emails in real time. I don't have to feel like I have to be attached to my laptop all of the time or I will miss an important email or deadline. My smartphone does it all. I feel like I have the power of the world in my hand at my fingertips.
Smart moms use smartphones because, despite how fabulous and on the ball we are, we need help! We don't have an assistant to help us with our daily duties, so having a smartphone is the next best thing. And the applications that are available are endless. There is nothing that my phone cannot do with the help of an application.
Could you imagine what the world would be without smartphones? No social networking while on the go, no being able to surf the web and no emails? Without the use of smartphones, why we would all be miserable people. At least, I know that I would.
Some might say that I depend a little too much on my phone, but that doesn't bother me. It allows me to take on the world, one app at a time.
How do you use your smartphone?
If you're looking for an Android-powered smartphone at a great value, be sure to check out U.S. Cellular. They have the highest satisfaction rating of any national carrier and you earn rewards points to use on things like accessories and upgrading your phone sooner. Learn More
Disclosure: Compensation was provided by US Cellular via Glam Media.  The opinions expressed herein are those of the author and are not indicative of the opinions or positions of U.S. Cellular®