Christmas is a wonderful time of the year for the entire family, but we all know that it is especially joyous for the kids. Children love Christmas, especially when they know there are wonderful things awaiting them under the tree. Most of my favorite Christmas memories were when I was a child and got the toys I wanted from Santa. It is the most wonderful time of the year!
Now that I am a mother myself, I love giving my 17 year old and 7 year old what they want on their Christmas lists. My 7 year old usually gets many toys which she plays with throughout the year. I like to make sure that the toys she receives are fun and functional, but also educational too.
Here are my picks this year for fun and educational gifts for girls:
Leapfrog LeapPad Explorer
My daughter always wants to use my Motorola Xoom, so when I received a Leapfrog LeapPad Explorer last month to review, she instantly fell in love with it. The LeapPad is a great gift and allows my daughter to learn and play while on the go and it's like she has her own tablet. There are many books and applications that I download for her that feature children's favorites like Dora, Arthur, Disney stars, and many others. The LeapPad Explorer is for ages 4-9 and retails for $159.99 for a bundle that includes the LeapPad, accessories, and games.
Cabbage Patch Kid Doll
After doing research for my Cabbage Patch Frenzy 1983 post this weekend, my daughter expressed that she too wanted an original Cabbage Patch Kid doll from BabyLand General, the "hospital" in Cleveland, Georgia where the Cabbage Patch Kid dolls were first born and created by Xavier Roberts. And because I was such an avid fan of the dolls when I was a kid, and I wanted my daughter to experience her own bit of history, I purchased her an original Cabbage Patch Kid doll. This is a great gift and is something both you and your kid can treasure and enjoy. The doll below is from the BabyLand Exclusives collection and is $69.99. If you want to rename the adopted Cabbage Patch Kid doll, there is an additional $3.00 fee.
Hartlyn Kids Books
I first became acquainted with these books via Twitter by my follower, Aisha, who is co-owner of the company. Hartlyn Kids books specialize in multicultural stories from all over the globe, and serve as fun and entertaining children, as well as encourages them to read. My daughter received her book a few weeks ago and has read it several times. The books also comes with a sticker-stamp of the country the book is located in, and that sticker can be placed in a Hartlyn Kids Passport, detailing all of the books and countries read. The books are $12.99 and the Passports are $4.50.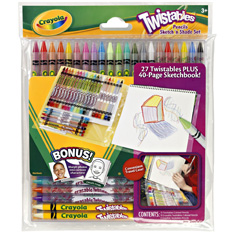 Crayola Twistables Pencils Sketch n' Shade Set
My daughter loves to sketch and enjoys using colored pencils. These Crayola Twistables Sketch n' Shade Set comes with colored pencils that you can twist to sharpen as well as a 40-page sketch book. It also comes with a neat traveling case so your artist can make creations wherever they go. This set retails for $11.99.
Lalaloopsy Doll
I first fell in love with the Lalaloopsy Doll last year and I am buying my daughter her 2nd one this Christmas. This Lalaloopsy doll is special, though, because it is the first one I have seen that is brown, just like she is. I love buying my daughter dolls that come in different colors and ethnic backgrounds, I am glad that Lalaloopsy celebrates the diversity in us all with their dolls. The Lalaloopsy dolls retail between $19 and $29.99.
Leapfrog Tag and Map
The Leapfrog Tag is a fabulous invention. It's a pen-like toy that reads, plays, music, and helps guide your child and help them learn. You can purchase books and maps that utilize the Leapfrog Tag, acting as a tutor. My daughter has a world map that is two sided, and she can use the Leapfrog Tag to learn about the world. She simply touches the country with her Leapfrog Tag and she is given a wealth of information about the country. It's fun time and learning time at the same time! The Leapfrog Tag Map Bundle retails for $89.99.
Hallmark Interactive Storybook and Story Pal
A few weeks ago when we were shopping, my daughter and I were at Hallmark Gold Crown and she saw Jingle the Husky Pup, a cute furry dog that also comes with a book called Jingle All the Way. But not only is this a book, but it's interactive, and Jingle, the stuffed animal responds to certain phrases/words when reading the book. My daughter loves to read with Jingle and she really likes how he responds when she reads to him. The duo retails for $29.95 at Hallmark Gold Crown Stores.
As you may notice, I am all about showing my daughter diversity, individuality, and different cultures. My friend, Robyn, went to the Time for Play toy fair in September, and introduced me to Hearts 4 Hearts Girls. They are dolls from different countries and their mission is to help girls become agents for change. For each doll that is purchased, 6.5% of the proceeds go to a charity in the doll's country of origin.
The 6 dolls in the collection are:
Nahji from India
Lilian from Belarus
Dell from United States
Consuelo from Mexico
Rahel from Ethiopia
Tipi from Laos
The dolls retail for $24.99 and can be purchased on their website, Hearts4HeartsGirls.com or on Amazon, Target, and more.
Robyn is gifting my daughter with Rahel from Ethiopia (seen pictured) for Christmas. Isn't that nice of her?
These 8 gift ideas for girls are Cubicle Chick tested and Cubicle Chicklet approved. Fun, educational, and definite memory makers.
I, The Cubicle Chick, have not been compensated to review any of the items above. However, since disclosure is a must, I have been given several of these items for my honest evaluation and critique for consideration for my 2011 Holiday Gift Guide.