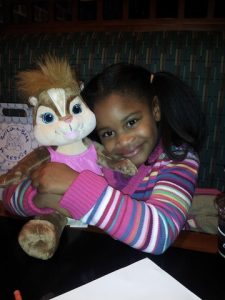 Friendship means so many things to all of us. For some of us, it means having someone who is there for us whenever we need them. For others, it's about having someone who will be open and honest with us no matter what. Whatever your definition of friendship, I think we all can agree that having a friend and being a friend is important. When you are friends with someone, it can improve your quality of life. It can make you happy and cheer you up when you are sad.
During the past year, I have really gotten close with my friend, Robyn. She and I are kindred spirits. We are alike in so many ways, and yet we learn things from one another as well. I think both of us have grown by leaps and bounds since we have become close friends. And I can honestly say that I don't know what I would do without having Robyn in my life. I am not the easiest person to get along with, and yet, Robyn always shows extreme patience with me. I am so lucky to have my bestie in my life, and I wouldn't trade her for anything in the world.
My friends at Build-A-Bear Workshop are celebrating 15 years of making friends! During the last 15 years, they have shared over 100 million furry friends with us—how time flies! Build-A-Bear has been in my life since my now 17 year old was 2 years old. I remember going to the mall and making his first Build-A-Bear when he was five years old. He still has the bear to this day!
Build-A-Bear Workshop is a prime example of friendship. My 7 year old loves going into the workshop and making her very own friend that she can love—friends that can last a lifetime!
I am happy to announce that I am one of  Build-A-Bear Workshop's '15 Friends for 2012′. We will be sharing with you special information, giveaways, and other goodies from Build-A-Bear Workshop during the next few months, and there will be plenty of fun things in store for my readers. I have had a relationship with Build-A-Bear for the last year and a half, and I am looking forward to continuing our wonderful friendship.
Yes, it's true—friends count!
What friendship are you most thankful for?
I, The Cubicle Chick, am one of Build-A-Bear Workshop's 15 Friends, a campaign created to celebrate 15 years in business and 100 million furry friends. I receive special perks for being a "friend" of Build-A-Bear Workshop. The opinions in this post are all mine.