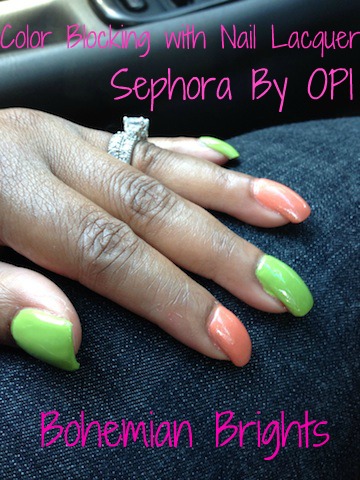 I haven't done a nail color post in a while, so I thought that I would create one for old time's sake. Despite my lack of nail color articles as of late, I still am a Lacquer Lolita—make no mistake about it. A few weeks ago while in Sephora, I purchased a set of minis by Sephora by OPI called Bohemian Brights; 6 trendy colors that are vivid, slightly wild, but oh so chic.
I could not decide on what color(s) to wear, so I took to my Twitter and Facebook stream for suggestions. Several people mentioned about color blocking my nails with 'What Aura Gonna Wear?' and 'That's What Fringe Is For', a green and peach combo that is the perfect look for summer.
What can I say? I have the BEST readers!
Below are the results of my latest nail look complete with 'It's Totally Karma' on my toes. I took the photos in natural light so you can get a real feel for the colors and how they work together.
Bohemian Brights by Sephora by OPI retails for $18.99 at Sephora.
What do ya think?