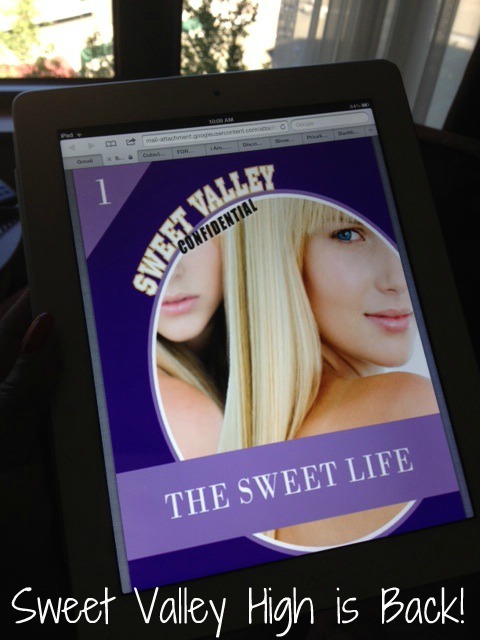 A huge part of my elementary life was based around reading the highly popular Sweet Valley High series books written by Francine Pascal. Besides The Babysitters Club, Sweet Valley High was must-read drama. It was my first foray into high drama, romance, and even mystery. Every time it was Scholastic book order time, I ordered a Sweet Valley High book. I could not get enough of the Wakefield Twins, Jessica and Elizabeth.
In 2010, I blogged that Francine and St. Martin's Press was reviving Sweet Valley High's cast of characters by bringing them into the millennium era in Sweet Valley Confidential. High school and teenage angst was far behind them—or were they? Hot and steamy, Pascal's Sweet Valley Confidential series of books raised the bar and I got hooked all over again.
Now, Pascal once again brings us more Jessica and Elizabeth swagger with 6 mini episodes or novellas of Sweet Life Confidential: The Sweet Life. Each episode is being released weekly and can be downloaded online for your e-reader or iPad (or in PDF form) for only $1.99 each. The series is also being offered as a digital audiobook as well.
The list of the episodes are as follows:
The Sweet Life Episode 1 7/15
The Sweet Life Episode 2 7/15
The Sweet Life Episode 3 7/22
The Sweet Life Episode 4 7/29
The Sweet Life Episode 5 8/5
The Sweet Life Episode 6 8/12
The Sweet Life begins at age 30, when the twins and their friends, lovers, and husbands reach a turning point. There's plenty of lies, drama, deception, and backstabbing, which is typical of the SVH series. From these episodes, we see that not much has changed for Jessica and Elizabeth; the "good and bad" twin composite is still in effect.
I am currently in the middle of reading The Sweet Life Episode #2 and I can't get enough. I am already caught up in the lives of Jessica, Elizabeth, Todd, Lila, Enid, and more. There are plenty of new characters to keep you interested as well. And I've been told that a full printed book for The Sweet Life coming this Fall. Cliffhangers anyone?
To purchase your digital copies of The Sweet Life and to learn more about the series, visit the official website.
Did you read Sweet Valley High books when you were younger? Will you read the "adult" versions now?