Labor Day usually signals the end of summer and the start of Fall. It is typically our last soiree before ushering in a new season, and because it is my birthday weekend, we always get together as a family to celebrate with a home fete that is lowkey but fabulous as well.
According to Wikipedia, Labor Day "celebrates the economic and social contributions of workers". No matter our chosen profession, background, or expertise, all of us work on a daily basis to ensure we are providing the best for our families. While it's a great day to takeoff and relax, it's also a day to pay tribute to yourself for a job well done!
Below are a few recipes for cocktails and ribs that are simple and easy to do in your own home to help celebrate Labor Day!
Spiked Chichigalpa
1.5 oz. Flor de Caña 7 yr Grand Reserve Rum
.25 oz. red apple pucker
1 oz. Apple-Cranberry Sparkling Cider
2 slices of Asian Pear
Juice of half a Lime
Fresh Cranberries
Muddle one pear slice in a cocktail shaker then add the Flor de Cana, Red Apple Pucker and lime juice with ice and shake vigorously. Strain into a wine glass and top with sparkling apple-cranberry cider. Place cranberries on top for garnish
Fran Shandy
1 oz Frangelico Hazelnut Liqueur
Equal parts pale lager and citrus soda (i.e. sprite)
Twist of lemon
Served in a tumbler glass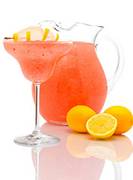 CAMUSrita Bliss (serves 4)
1 cup CAMUS VS Elegance Cognac
½ cup X-Rated Fusion Liqueur
½ cup triple sec
½ cup sparkling water
½ cup zero calorie sweetener
Juice of 1 lemon
1 cup strawberries, pulsed in blender
1 cup ice
Pulse the strawberries in a blender; slowly add the lemon juice and sweetener to the mix.  Place mixture in the pitcher and add cognac, triple sec and sparkling water.  Lastly, add ice and serve.  Garnish margarita glasses with lemon twist.
St. Louis Spare Ribs with Frangelico BBQ Sauce (Serves 5 4pc portions of ribs)
Use St. Louis spare ribs that are brined in:
1/4 cup soy sauce for 1 gallon of water
Brine them for 24 hours
Then braise them simply in chicken stock until tender, about 4 hours at 325 degrees
Frangelico BBQ Sauce
Sauce
½ bottle Frangelico
1/4c bacon cut small
1 carrot chopped
1 tbsp Chopped ginger
1 apple chopped
1 stalk celery chopped
1 onions chopped
1/2 head of garlic
1 piece of ginger chopped
1 cup apple cider
1 cup orange juice
2 cups of pineapple juice
1/3 c worcestershire sauce
1 tablespoon molasses
2 cups tomato juice
2 cinnamon stick
1 cup chicken stock
Soy sauce and salt to taste
Sweat bacon all vegetables and spices, add the Frangelico.  Then add the rest of the liquids and reduce to sauce consistency.  Season to taste.
What could be greater than fab cocktails and ribs to celebrate the final days of summer? I plan on having a little fun on the deck and creating a few of these cocktails for me the other half to enjoy. The ribs look divine!
Have a safe and Happy Labor Day Weekend!
*Frangelico BBQ Sauce and Rip recipe courtesy of Executive Chef Paul Corsentino
Thank you to Timothy at Deussen Communications for the recipes!