Written By: Style and Fashion Contributor, Coco Michelle
2012's Fall accessories can be described in one word – Bold! Bold colors, textures and shapes have dominated the runways. The trick to transitioning the haute couture runway look to your fabulous office cubicle is to keep it simple. Choose only one bold accessory statement and then back away. As Coco Chanel famously said "It is always better to be slightly underdressed".
Whenever you need to freshen up your wardrobe, accessories are always your best bet. You can start your accessory style transformation by choosing one of these 3 fabulous statement accessories:
Behold the Bib Necklace!
Every style-conscious woman deserves a bib necklace this season. And don't forget the golden rule of Texas – Bigger is better! A well-chosen ornate bib necklace can make a plain blouse look modern, fashionable and amazing. When you try on this new fashion trend, be sure to make the necklace the visual anchor of your outfit. Then get ready for the compliments and adoration about your bold fashion choice.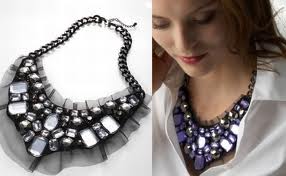 The Clutch & Cocktail Ring Combo!
Here's a clever combo that makes one style statement. Clutches and cocktail rings go hand in hand. Clutches are so lady like. A pretty clutch exudes elegance and classic style. Every generation puts its own spin on the classic clutch. And this season's clutch is filled with glitz and glamour. A pretty cocktail ring will punch it up nicely!
Be a Mad Hatter!
From "hat to the back" baseball caps to sexy Fedoras, hats are always in style. The fascination with hats got a jump start with the British Royal Wedding of William and Kate where many women wore hats called Fascinators. This Fall fashion season, trendy runways featured Fedoras, Fascinators, caps and headpieces accented with feathers, beads and all manner of blinged-out fabulousity. Throw your hat in the ring and make a bold style statement with an extra wide-brimmed hat cocked to the side or try a black or navy birdcage veil.
Happy Accessorizing!