As an avid fan of the original 1989 film Steel Magnolias, I was on the fence about the remake when I heard about it this summer. Now that I have had a chance to see the trailer, I must admit, I am looking forward to seeing it when it's broadcast on Lifetime this weekend. The cast of Steel Magnolias and other celebrities came together on Wed. night in New York to celebrate the premiere of the new film, which features an all-black ensemble cast.
The film's Executive Producer Queen Latifah, alongside her co-stars Phylicia Rashad, Jill Scott, Alfre Woodard, Adepero Oduye, and Condola Rashad, came out to celebrate the premiere of their Steel Magnolias remake with a viewing event and party.
Many people came to the soiree to show love including singer Keri Hilson, Lifetime Dance Mom's choreographer Abby Lee Miller, and more.
Take a peek at the photos from the event below:
Keri Hilson and Steel Magnolias co-star Jill Scott
Queen Latifah brought her mom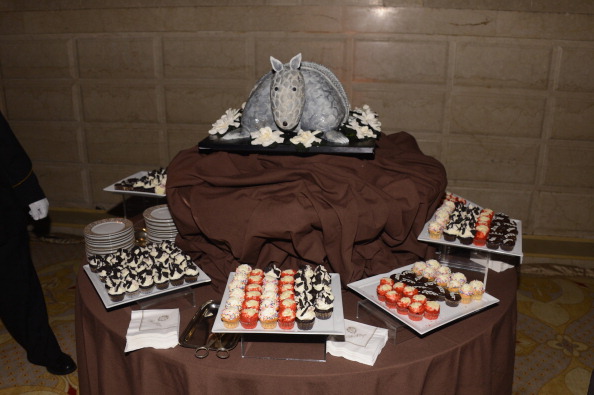 The prized "armadillo" grooms cake from Steel Magnolias
Steel Magnolias' co-star Condola Rashad (Shelby) with her dad, Ahmad Rashad
Steel Magnolias' co-star Adepero Oduye (Annelle)
Swag!
Jill Scott standing in front of her 'Truvy' poster
Phylicia Rashad (Clairee) and Executive VP of programming, Lifetime Networks Rob Sharenow
Dance Moms' Abby Lee Miller
Condola Rashad and Adepero Oduye
Project Runway contestant Kimberly Goldson and actress Condola Rashad
More Jilly from Philly!
Singer Keri Hilson
Steel Magnolias' cast photo
Lifetime's remake of Steel Magnolias premieres on the network Sunday, October 7th at 9pm/8pm CST.
Can't wait!
Photo credit: Getty Images