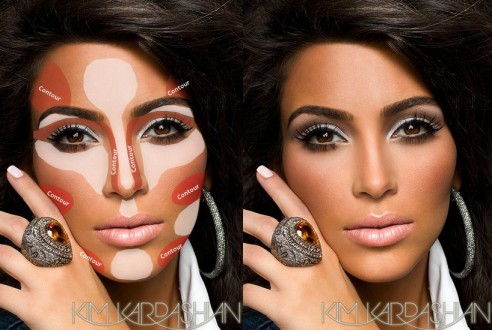 Last month, I blogged about Kim Kardashian and her facial contouring, which was completed by makeup artist Scott Barnes and showcased on her blog. I can tell you that that post has gotten me a lot of traffic, for everyone and their mother is looking for tips on how to contour to achieve the makeup look Kim is known for sporting so gorgeously. As I explained in the previous post, contouring is a makeup effect used to change the shape of the face. It can make your cheekbones look more sleek, your nose longer and smaller, and can give you a more polished look.
I personally don't contour, but it is something I want to try. Too much contouring, however, can give you a plastic look, so it has to be done right or can create a more tranny-like appearance, something most of us girls don't want.
Kim took to her blog again a few weeks ago after finding a contouring tutorial how-to on Pinterest done by UnTrendyGirl. After looking at the tutorial post, I must admit, it's the best how-to I've seen about facial contouring with make-up.
Here's what you do:
1. Feel the contours of your face. Apply the contour color directly underneath your cheekbone, extending from the center of your ear in a slightly downward motion. You will want to keep the contour application concise. If your brush feels too fluffy or large, pinch the bristles when you apply, this will give you more control.
2. Use a small eyeshadow brush to softly line both sides of the nose. If your nose is long, you may want to apply a little under the tip of your nose. Again, keep the applications concise.
3. Feel your jaw. You will apply your contour color below your jawbone, making sure not to apply any color to the actual bone. The point is to create a shadow below your jaw. If your jaw is large, you may bring the contour color up on either side of the chin. This will make your jaw appear less bold.
4. Blend your contour color into your hairline. Doing this helps make your face appear slimmer. Make sure to blend well into the hairline.
5. Although your colors may be dramatic, there should be no severe lines. Blend edges well.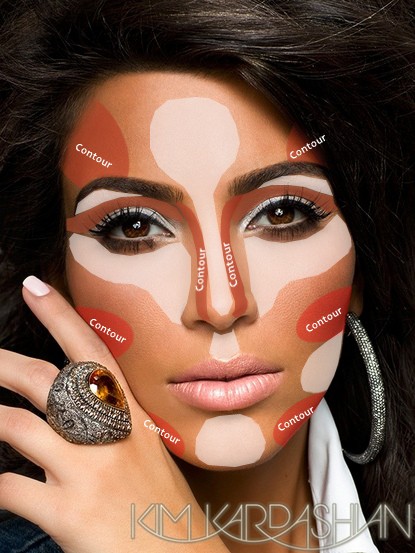 According to UnTrendyGirl, you should accentuate the good, and contour the rest (of your face). Some people love the end result contouring can give, while others think it is too much.
What are your thoughts on facial contouring with makeup?
Photo credit: UnTrendyGirl.com and Kim Kardashian.com