A few weeks ago, you may have noticed that I was on a traveling frenzy. That was because I was invited to 3 events during a 6 day period, so your girl was all over the place. My self-named "World Tour" began it's last leg in California, where I joined the Toyota Women crew for three days of fun traveling the southern California coast in fabulous Toyotas. We started our trek in Santa Monica, and then cruised to Santa Barbara to stay at El Capitan Canyon, where we indulged in some glamping.
What is glamping, you asked? Well, I can say that us TWIN gals weren't exactly roughing it. We were in the woods getting at one with nature, but we were each given cute cabins to stay in that were well appointed. And while we did fight the flies and were without air conditioning (that was the biggest challenge for me), I can say that we did it in a glamorous way—thus the term, glamping.
I haven't been on a camping adventure since I was in middle school (and even then, we RV'd it in a pretty cool mobile home thingy complete with a jacuzzi tub—I guess I've never really camped out before), so of course I was a little shell shocked. That all changed as I actually got used to my surroundings. It was not a 4 star hotel, but that was the point. To get to know one another in simple surroundings without all of the bells and whistles that we are used to. And I can honestly say that I enjoyed myself.
I already covered a little bit of my Toyota So-Cal Driving Experience HERE, but I wanted to show you guys how we were really roughing it while in the woods.
And, I must admit, I've had many a spa treatment, but nothing was like having a massage in the spa in the woods. It was indeed a once in a lifetime experience.
Check out a photo rundown of our stay at El Capitan Canyon below:
My cabin: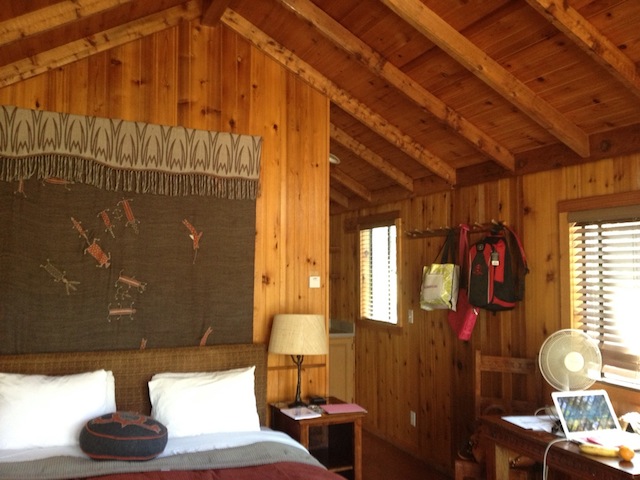 My El Capitan Canyon Spa Experience:
Me & the Toyota Women Gals!:
Photo credit: Kristi, LiveandLoveOutLoud.com
I am learning to take full advantage of the wonderful opportunities that I get to experience. I look back on this entire trip as a wonderful thing, and I will remember it always. Thank you, Toyota!
Yes, we glamped it up, and had fun while doing it. The memories made will last a lifetime.
Disclosure: I was selected for participation in the TWIN community through a program with
Clever Girls Collective. I did not receive any compensation for writing this post, or payment in exchange for participating. The opinions expressed herein are mine, and do not reflect the views of the Toyota. Smooches and deuces!