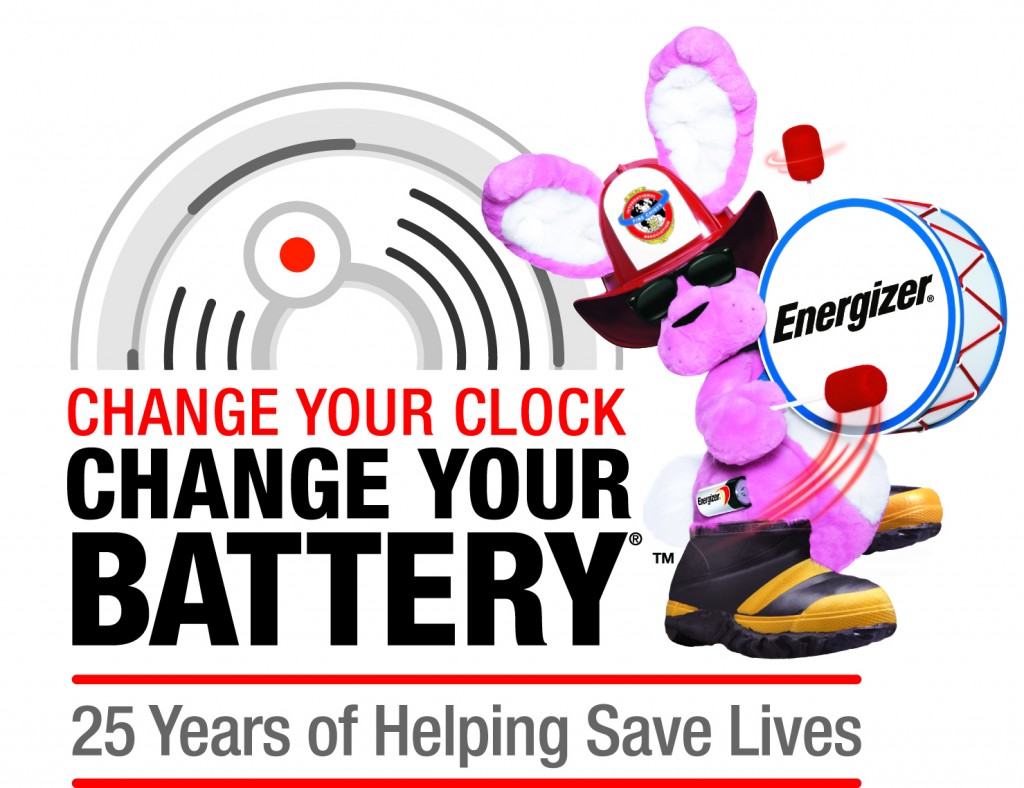 In about a week, Daylight Savings Time will be upon us and we will be turning our clocks back. Gaining an hour of sleep is something I look forward to every year, but it's also an opportunity to take stock of the safety of our homes by making sure that our smoke alarms and carbon monoxide detectors are working properly. Each year, thousands of lives are saved with the help of these monitors, but they must be checked regularly to make sure their batteries are working. Daylight Savings Time is a perfect time to go around your home to check these devices and switch them out or change the batteries if necessary.
November 4th marks when we are supposed to set our clocks back an hour, but it is also the 25th anniversary of the annual Change Your Clock Change Your Battery® program. Energizer is working with the International Association of Fire Chiefs (IAFC) to get the word out on safety with the help of working smoke and carbon monoxide detectors.
According to Energizer, *thirty-eight percent of fatal fire injuries occur in homes with no smoke alarms, while 24 percent occur in homes in which at least one smoke alarm is present but fails to operate, frequently due to dead or missing batteries.
In order to bring awareness to this issue, Energizer is giving me the opportunity to give away Family Safety Kit complete with a reusable grocery tote with the following items:
One 2-pack of Energizer® MAX®Batteries (9v) with Power Seal Technology – Dependable, powerful performance for the devices that help keep your family safe; now hold their charge when stored for up to 5 years
·         One Energizer® Flameless Wax Candle – Enjoy the realistic flicker of a scented wax candle without the worry of open flame or hassle of soot and dripping wax
·         One Energizer® Weatheready® Safety Light – Waterproof flashlight powered by AA, AAA or C cell batteries; includes safety whistle and imprinted preparedness checklist
·         One Kidde Battery-Operated Combination Carbon Monoxide and Smoke Alarm
The retail value of this Family Safety Kit is $78.
To enter to win the Family Safety Kit from Energizer on my blog, you must do the following:
'Like' TheCubicleChick on Facebook
'Like'  Energizer on Facebook
Leave a comment below sharing how you plan to use the Family Safety Kit if you win. That's it!
One (1) reader will be selected at random on November 4th after 6pm CST and will be announced on my Facebook page. This giveaway is open to U.S. residents only, void where prohibited. The winner will have 48 hours to claim their prize, or another winner will be selected. No purchase necessary.
You can also help spread the word by visiting Energizer's Facebook page and clicking on the Fire Safety Info Tab.  You will have the chance to enter a sweepstakes to win an additional Family Safety Kit.  Energizer will be giving away one Family Safety Kit per day for 25 days.  Contained in the kit, valued at more than $150 is:
One reusable grocery tote
Two Kidde Battery-Operated Combination Carbon Monoxide and Smoke Alarms
One package of Energizer Advanced Lithium batteries
One package of Energizer® MAX® Batteries (AA) with Power Seal Technology – Dependable, powerful performance for the devices that help keep your family safe; now hold their charge when stored for up to 10 years
Two Energizer flashlights
Two Energizer Flameless Wax Candles
One Energizer Bunny Plush Bunny
In addition you can find fire safety tips, a home escape plan that you can download and draw your family's home escape plan, as well as a coloring and activity sheet.
Brand Statement:
The Change Your Clock Change Your Battery®program is just one of the ways Energizer brings to life the company's commitment to making a positive impact in communities across the country. that's positivenergy™   For more information, please visit energizer.com and facebook.com/energizerbunny.  I have also included a press release below with more information about this year's campaign.  If you would like images to accompany your post, just let me know and I am happy to send your way.  I just didn't want to clog your Inbox.
* Fire statistics were obtained from reports by the Fire Analysis and Research Division of the National Fire Protection Association.
Disclaimer: I, The Cubicle Chick, received a Family Safety Kit from Energizer for review in exchange for this post. This is not a paid nor sponsored post, and all opinions listed above, as always, are mine, and are not indicative of the brand.